Sports & Rec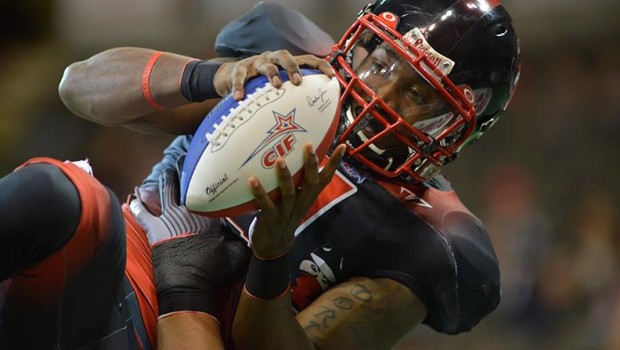 Published on February 26th, 2016 | by E. Yasamoto
0
Despite 2015 title, Bandits coach taking nothing for granted
Sioux City Bandits head coach Erv Strohbeen doesn't like to rest on past laurels.
Even though the Bandits snagged the inaugural Champions Indoor Football League title with a 76 – 61 victory over the (Allen, Tx.) Texas Revolution, Strohbeen knew the team began the 2015 season slowly.
"We ended the season strong (wrapping up with an 11 – 3 record) but we took a few hits early on," he said. "It took some time for everyone to gel and I'm glad (our team's) hard work and dedication won out."
Strohbeen is especially excited about the Bandits season opener with the Omaha Beef at 7 p.m. Saturday at the Tyson Event Center.
"The Beef is a good team and we're looking forward to a great game," he said. While the Beef finished its 2015 season with a less-than-stellar 1 – 11 record, head coach Cory Ross has high hopes for the new year. "We had a great recruiting season," Ross said. "We have some veteran players as well as some new guys that will get plenty of notice."
Named the Beef's head coach in 2015, Ross had previously played with the University of Nebraska Cornhuskers before playing for the NFL and Canadian Football League.
"There's something great about (indoor arena football leagues)," Ross said. "The games are more action-packed than the NFL."
Strohbeen agreed, adding that he considers his Bandits to be important parts of the community.
"I have three or four Bandits who will be part of a program at a Sioux City elementary school," he said with a laugh. "That seldom happens with NFL guys."
"Our players are more accessible with their fans," Strohbeen continued. "That's why the fans love them."
Sioux City's fans are a big part of the game, and Saturday they'll have plenty to cheer as the season gets underway.
Photo: Sioux City Bandits Faceboook page