Food & Drink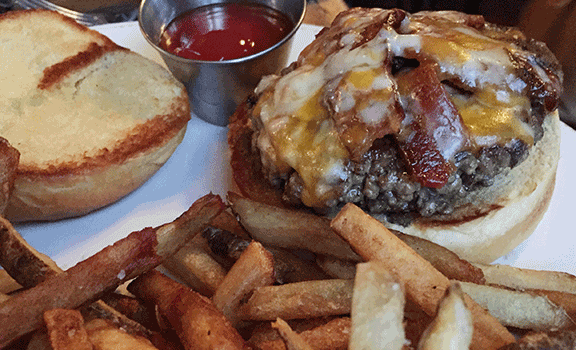 Published on May 14th, 2015 | by Thomas Ritchie
0
Diving Elk does Pub Burger (and Apps) right
If you haven't ventured to Historic 4th Street in a while, now might be the time. It's spring and some new destinations are stepping up the food vibe in a good way. One of those destinations is the Diving Elk, in the former Rebos location on the corner of 4th and Court streets.
I found great delight in our meal this past weekend with friends over craft beers.
We tried the Pub burger, after starting with the Poutine and a meat and cheese sampler that was a real treat. We also had a bowl of the Brussels Sprouts, which has quickly emerged as a favorite among patrons. Ask anyone if they've been to the Diving Elk and they all mention the sprouts.
I'll start with the meat and cheese. This starter really is unique, and I cannot recall another eatery in Sioux City that has as nice a mix of cheeses, meats and side munchies. Called the "Cured and Aged Platter," it truly provides a full palette of flavors.
It would be perfect served with a nice red or white wine, but we tried it with craft beers, which is Diving Elk's hallmark. We couldn't stop talking about the flavors and mixture of textures this platter encompasses.
A creamy Maytag blue and a porter cheddar provide two very different, flavor-rich cheese styles. Italian meats, such as capocollo, bring the protein. Calamata and other olives and mini pickles punch up the platter. Lavash, a crunchy flatbread, is the vehicle for ferrying all of these flavors into your mouth. Mix and match the cheeses and meats on the lavash, or just eat them plain. This app is a real standout if you have a group of snackers on hand for drinks after work.
Not a fan of cured meats or aged cheeses? Try the Hummus – it's a great starter, too. But that's another review.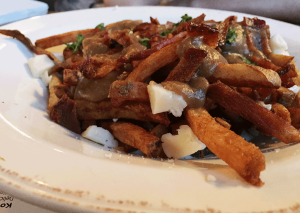 The poutine (left) is served in a bowl to contain all the toppings. This traditional Canadian dish has many American variations. Diving Elk starts with house fries, then tops them with a basic beef gravy, bacon, and fresh curd cheese. You can also get a fried egg on top for an extra $1, but we left that off. This one could serve as a meal if you eat it alone. Great pub food – whether it's dinner or late night.
The sprouts are halved and cooked to perfection. I'll take off on a tangent here and say that these are not your mother's Brussels Sprouts. They are fresh, roasted and nicely seasoned, but not too soft. Most people I've seen try them say something like I didn't know Brussels Sprouts could be so good. They can be, and they are! I'll have seconds.
Not sure how they season them, but from my experience, it's likely just sauteed in olive oil and then seasoned with salt and pepper. Really, that's all these babies need. They're topped with julienned carrot spears. Try 'em and you'll understand why they're so popular.
Now about that burger. It's called the pub burger for a reason – it's your standard burger. But the Diving Elk does it up right – a 6 oz burger on a grilled roll (yes!). I'm a big fan of hot sandwiches, whether it's a burger or a ham sandwich, so when a sandwich is served with a grilled bun, I'm already a fan because this simple trick adds so much flavor to the sandwich.
We added bacon (an extra $1.50) and aged cheddar (extra $1) and it's delivered with Boston lettuce and pickled red onion. We ate ours without too many condiments or toppings to savor the burger, which was really juicy and had a good grill flavor. The pickled onions stood out with every bite, but not enough to overpower the sandwich.
Not sure what spices they employ at the Diving Elk, but this burger didn't seem to need much. It had a nice pepper flavor, which I appreciate.
Since I like to play with my food, I crossed flavor streams just to test out my options. As I finished up my burger, we had a bit of gravy left from our poutine, so I dipped the burger in, and … delicious. Good stuff, and a great way to finish up dinner.
I didn't go to the trouble of mentioning the craft beers that Diving Elk is known for. That's a different story.
See their entire menu here. DivingElk_FoodMenu_4.3.15