Food & Drink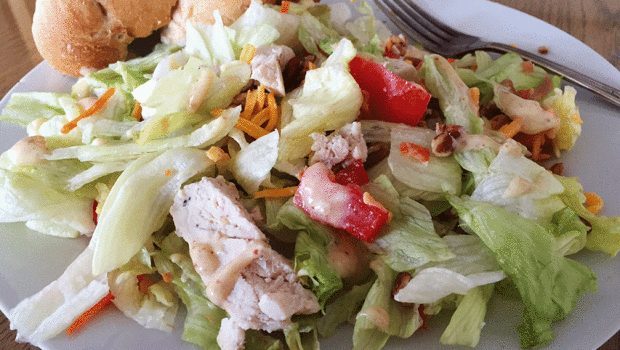 Published on September 3rd, 2015 | by Thomas Ritchie
0
Dressing makes Pickerman's Pecan Chicken Salad perfect
I'm no slouch when it comes to salad – I like mine dark green and loaded with the good stuff (read: stuff that's the opposite of good for you).
But I do appreciate good greens: spinach, arugula, kale, romaine and baby bib lettuce are some of my favorites. In fact, during the summer months, I love making my own vinaigrette and topping my plate with just greens, ample pepper and that homemade dressing and a few onions. I'm in heaven.
Since the end of summer is a fine time to pile up some greenery and get your fresh on, I'm devoting my food reviews to plates of the garden variety (or dishes that slant that way) this month.
I decided to start somewhere I've never eaten, but heard good things about: Pickermans, located in the Bomgaars plaza on Hamilton Boulevard. I got my order to go, but with a fresh salad, that didn't seem to change my food experience at all.
I ordered their "most popular" salad – the Chicken Pecan Salad – according to the guy at the counter. So what makes it popular? Likely the bacon and pecans and the dressing, which had great flavor and tasted almost homemade.
But I'm getting ahead of myself. Let's start with the lettuce, cause that's what makes a proper salad.
The base of the entree is made up of a pile of iceberg lettuce, tossed with light cheddar cheese, fresh diced tomatoes and julienned carrots. It's nothing fancy when it comes to the greens, but plenty of folks are more than happy with a head of iceberg, although it is bottom of the heap when it comes to nutritional value. I guess, compared to that Blue Cheese burger I had yesterday at Soho, the Chicken Pecan is still killing it for calories (just 371) and nutrition (let's not go there).
I would have preferred a little more cheese and carrots, but the tomatoes were ample.
Back to the Salad, and the best part: the meat.
OK, one complaint before I go on. What is it with chicken salads? It seems that no one wants to break that mold – everywhere I go, the selections are all focused on one protein: spinach chicken salad, mixed greens and chicken, chicken salad over greens.
Why can't someone offer a decent salad complemented with steak or tuna? I'd even take a good crab salad. But I digress.
The chicken chunks were large, and were not flavored – just chicken cooked up right and cut into ½ inch strips. Simple enough. Now add bacon.
If you read any of my reviews, you know that I love bacon, so I was paying attention to the portion here. Actually, I wasn't expecting too much of the porcine candy as this is a pecan and chicken salad, but there was plenty of the goodness to make each bite a little sweeter. And it tasted like real bacon, not those cheesy store-bought bacon bits. No one wants those.
Finish with the pecans. To say that I emptied my plate and still had a few nuts left on the plate would be true, but there wasn't much as I like to get a bit of nuttiness in every bite. The pecans were nicely chopped, and spread evenly on the salad. A nice complement to each bite.
Finally, that honey dijon mustard dressing. It wasn't really a vinaigrette – it was a bit too thick for that – but it had great flavor, and nicely completed the salad. More of a creamy vinaigrette.
One note: I cannot be for sure, but this didn't taste like an out-of-the-bottle dressing. It had too much flavor for that, so kudos to Pickermans for caring about the dressing, a salad condiment that often gets disregarded in favor of its bottled brethren.
Would I try this one again? Perhaps, although since it's iceberg, I'd likely try another one of Pickerman's many green entrees. But many salad lovers would be in heaven with this one. Chicken, bacon, pecans and homemade-style dressing. I didn't even mention the fresh roll that comes with it. No need to. What else could you ask for in a salad?
In this case, not much.