Food & Drink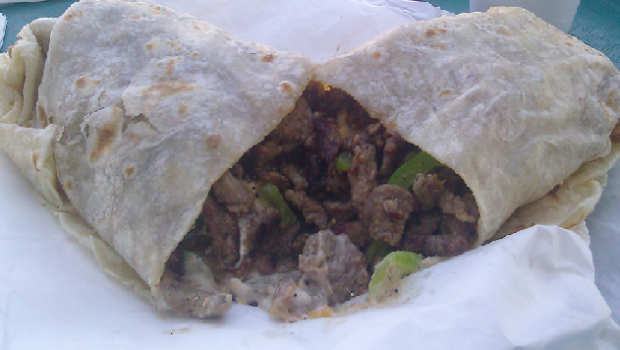 Published on June 15th, 2016 | by Ivy Sweet
0
Food Truck Fridays Serve Delicious Cuisine
You don't have to go to a restaurant to have delicious, quality food.
Not if it's Friday, anyway. Food Truck Fridays have opened in downtown Sioux City and offer ethnic foods that will please your palette and give you a unique lunch experience.
Two food trucks were parked on 7th St. between Douglas and Pearl, but upon my arrival one of them – Delicious Depot – had offered such good food that it had already run out. That was bad luck for me, because I had really wanted to try their gumbo.
The other food truck, Daga's on Wheels, still had a small crowd of people queuing up to the window, so I took my place in line. I ordered a chicken taco for $2.50 and a beef burrito for $4.
The food trucks accept cash only, so I offered the friendly young girl in the window a $10 bill. She informed me that the truck was out of $1 bills, so I had to pay in exact change. Fortunately, I had other bills on me and was able to do so.
Various tables and chairs were set up on the sidewalk beside the food truck, but most of them were already occupied by hungry customers digging into Daga's Mexican food, so I stood by a tree near the back of the truck to wait for my order.
People of all varieties either sat at the sidewalk tables or waited near the food truck's window to get their food to go. Everyone from men in suits to families with children to random passersby were joining the line to order or walking away from the truck with either a plate full of Mexican food or a brown paper bag in hand.
My order was ready in less than 10 minutes – the length of time I would typically wait for an order at a fast food restaurant. But my meal had more of a homemade or family restaurant quality to it than generic fast food.
I dug into my burrito first. It was bulging with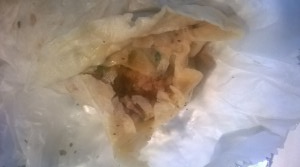 ground beef and had cheese sprinkled throughout the inside of it. The meat tasted fresh and had that awesome mild cheese flavor mixed in with the beef. It was enough for two meals of beefy burrito goodness; my second meal was equally good as the first, but slightly different because the cheese melted when the burrito was reheated.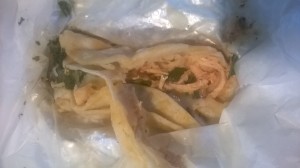 The chicken taco – which was also covered in cheese, at my request – had more of a pang in its flavor due to the cilantro scattered among the chunks of chicken and cheese. My deepest regret is that it only took several bites to devour it.
The food trucks will be parked on 7th St. between Douglas and Pearl every Friday from 11 a.m. to 2 p.m. Don't miss out on these delicious local dishes.