Food & Drink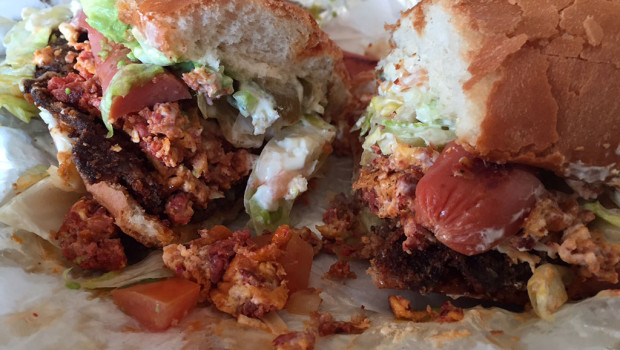 Published on January 13th, 2016 | by Thomas Ritchie
0
Guero's Cuban Torta is a messy, meat-filled delight
Editor's Note: We are reposting some of our favorite food reviews from 2015 in case you missed them. 
Enterprising restaurant owners have a way of creating unique food experiences as a way to attract new customers and keep them coming back.
Such is the case with Guero in downtown Sioux City. The Mexican eatery owned by by Eduardo "Guero" Sanchez opened its doors in November 2013, and has slowly gained a name for itself serving up authentic, delicious Mexican food on the cheap.
Case in point: the Cuban torta. On appearances, this monstrosity stands out on the Guero menu like a mangy dog at the Westminster dog show. I can honestly say that I have never eaten a sandwich quite like Guero's Cuban. And if you haven't, not is a good time to start.
Here's what you need to know. This baby is stacked high with meat and fresh ingredients. And it's messy. And it's an explosion of flavors. I could end there and spend my time walking over and grabbing another one, because that's what I want to do. But I digress.
Just to make something clear from the start: this is the Mexican sandwich topped with hot dogs. Two friends warned me about the dogs and told me I would love this sandwich. They know me too well.
I'll try to paint a picture of this stacked bun. It's actually not so much stacked as piled. The toppings formed a sort of flavor mound inside the bun.
A thinly sliced breaded steak works as the foundation for the meat stack. I expected a thicker steak, but had it been I would have had trouble eating the sandwich, so thinner was actually better. A healthy serving of chorizo sits atop that.
To be honest, I'm not sure there really is an order to the toppings, but that's what it looked like. The menu said there were eggs mixed in with the chorizo, but it was difficult to see them through the toppings. So I'll just assume they were there.
That's just the start of the meat. There's also bacon, ham and those hot dogs, which were falling out the side of this beauty. Every bite stands alone here, depending on what your taste buds jump on first. That's what made eating the Cuban so fun.
But it is messy, and it will fall apart when you eat it. Whenever I order a torta, I'm prepared to use a fork and require extra napkins.
As promised, there are fresh ingredients on this lunchtime favorite, too. Lettuce, diced tomatoes and avocado gave it a fresh finish, while the jalapenos (these were my favorite) spiced things up a bit. The queso fresco and mayo also added to the fun.
Of course, I added spicy carrots and Guero's tangy hot sauce just to increase the challenge of keeping the bun on top.
When all was said and done, I got two meals out of the Cuban – a lunch with rice and beans as a side, and the remaining half sandwich for dinner. Two times the treat for just $6.50 – I'd call that a win, hot dogs or not.