Food & Drink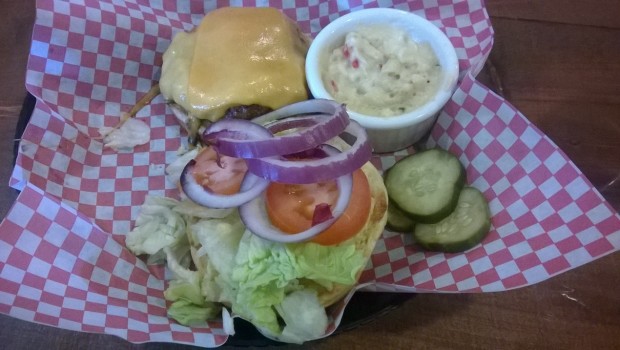 Published on February 8th, 2016 | by Ivy Sweet
0
Lunch got really cheesy at Crazy Bob's BBQ
Crazy Bob's cheddar cheeseburger is a pretty crazy lunch.
Walking into the old Green Gables for the first time since its transformation to Crazy Bob's Maximum BBQ, I had no idea what to expect other than barbecue. What I found is a new interior and some great food.
What drew my eye on the one-page lunch menu, however, was the cheddar cheeseburger. Being a huge cheese enthusiast, I paid $7.95 to get the whole cheddar cheeseburger with cheese experience and another $3.95 for a side of PepperJack Mac and Cheese on top of that. After all, there can never be too much cheese.
Upon being served my hearty meal, I wasn't quite sure where to start: the burger was so huge that it was divided into two stacks – one with all the lettuce, onions, and tomato and the other with the hamburger and two slices of cheese.
I promptly put the burger together and attempted to eat it in the traditional stack-everything-between-two-buns style. The result was onions and lettuce everywhere. The beef and cheese managed to stay in their assigned places without incident, which was nice. It took just one bite to discover that this big burger was phenomenally delicious.
The meat was clearly the star of the burger. It had a familiar barbecue flavor that reminded me of warm summer days and outdoor cookouts – an amazing memory in the midst of a snowy, blustery February.
At first I tackled the burger without adding any condiments. I wouldn't have thought it was possible to enhance the barbecue flavor any more than the way it was served, but then I explored the bottles of sauce that are provided and made a new discovery: the meat tasted even more delicious when doused in Sweet Asian BBQ sauce. They also have a Smokin Berry and a number of other BBQ sauces to choose from.
Taking alternating bites between the Asian barbecued cheddar cheese and the PepperJack Mac and Cheese, I devoured the entire meal in less than 10 minutes. When I first got my food, I felt a slight disappointment at how small the bowl of mac and cheese was. What if I wanted more, I thought? But after digging into the burger, I found myself with barely enough room to finish the last remnants of mac and cheese from the bottom of the dish.
If you are a cheese fan as I am, you absolutely must try this meal. It was truly one of the most incredible meat and cheese experiences I have ever had.
Even if you are not a cheese eater, I would still recommend trying the cheeseburger without the cheese. After all, despite the plethora of cheese in my order, the hamburger was the most notable component. Anyone who enjoys the taste of good old barbecue will enjoy the way Crazy Bob serves his burgers.
I can't wait to go back for another one. There's a lot of BBQ I didn't get to try yet.