Community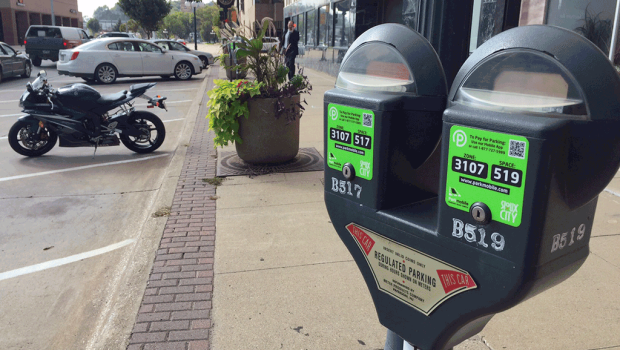 Published on September 21st, 2015 | by Thomas Ritchie
0
Now you can use an app to park downtown
Forget the quarters: You can now use your smartphone to park in downtown Sioux City.
Today the city announced it is working with ParkMobile, an app-based parking solution, to take payments via your phone. It allows drivers to pay for parking with their smartphones using Parkmobile's mobile applications for iPhone, Android, Windows, and Blackberry phones.
The Parkmobile service is being offered at approximately 1,300 on-street metered spaces throughout the city.
Here's the city's claim, via Assistant City Manager Mike Collett: "The app is easy to use and will provide users the flexibility to use their smartphone to pay for meter time and extend time remotely, if necessary."
In a test this afternoon, I found the meter app pretty easy to use, and it didn't take much more time than digging around my car for quarters. Before you head downtown, get online and create an account and add money via your credit card. It takes about 5 minutes. Then download the app and sign in with the credentials you used to create an account.
Once registered, you can use the mobile app, internet, or a toll free number to pay for parking. After setting up your account, customers can immediately start using the system with their registered mobile phone.
So how's it work? First, instead of pumping in quarters, you open the app and enter in your zone number (it's printed on the front of the meter) and your parking spot number. It's pretty simple. Select how long you want to park, confirm the cost and you're ready to go.
One thing I don't like is that the meter still says expired. Traffic enforcement officers will be able to see that a motorist has paid with Parkmobile using their own system, so customers should not worry if the meter does not change. Mobile app users may also choose to receive alerts and reminders 15 minutes prior to expiration of their parking session.
There are a couple things that are pretty cool with the system.
First, the app tells you exactly how long you have until your meter expires, just like a cell phone timer. But it's easy to resolve if you run out of time – just add parking time by pushing the Extend Session button. Time limits on meters still apply and Parkmobile will not allow users to purchase more time than allotted by the meters. I did not test this yet, but was told by a city employee that overstaying the limits in a single spot will be enforced.
The other thing is that there is a Find My Car tool in case you forgot where you parked. I don't anticipate needing this often in Sioux City, but in a bigger city, it could be really useful. Oh yeah, the app is available for use in about 1,400 cities across the nation, so if you travel, check the Parkmobile website before you go to see if your destination uses the service. One note: the online map still does not include Sioux City on its locations map, so it may be a bit out of date, but the service did just go live today.
Downtown Partners Executive Director Ragen Cote is excited about the new technology. "Being able to use your phone for those times when you are out of change is something downtown visitors and businesses have been requesting for some time. We are excited to be a part of this project and look forward to working with Parkmobile."
For the most part, this is a service that I've heard mentioned dozens of times, so it's long overdue. Its ease of use should make it much easier to "plug the meter" and hopefully help a few of us avoid those little yellow envelopes.