Pets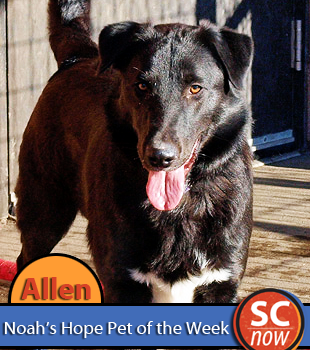 Published on March 18th, 2014 | by Sioux City Now
3
Pet of the Week – Allen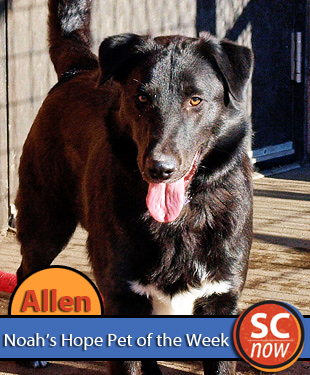 Allen is a beautiful, gentle Collie-Lab mix. When we first met him he had been in a shelter so long he was afraid to leave his kennel. Unlike the other dogs that would go crazy to get outside and romp, Allen left his kennel reluctantly and once outside, would stay by the door trying to get back in.
Now he's in a Noah's Hope foster home and he's becoming less fearful every day. His foster mom reports that Allen has excellent manners in the house. He can be left alone and will not get into any mischief. He gets along well with other dogs. Allen is perfectly house trained and does not bark. Although he doesn't like to be left outside alone yet, we think he will get over this in time. He loves car rides and going for walks. When he's walking with his foster mom, he is fearless – not scared of joggers, other dogs, or fire trucks. Go figure.
Maybe Allen isn't so shy after all. We're confident that with a patient, loving family, Allen will blossom and become a most devoted dog.
Allen is one year old, neutered, fully vetted, and ready to come home with you. If you want to welcome this lovely, shy guy into your home, please call Deanna at 712-253-8394. Or visit our Facebook page or website for more information:
https://www.facebook.com/NoahsHopeAnimalRescue
www.noahshomeanimalrescue.com
Noah's Hope Animal Rescue is an all-volunteer, 501(c)3 nonprofit corporation. We rescue the underdogs: the old, the sick and injured, the used-up by breeders, the forsaken and misunderstood. We nurse them, bring them back from the brink, and give them another chance. We believe they make the very best pets because somehow, they understand and are grateful.