Pets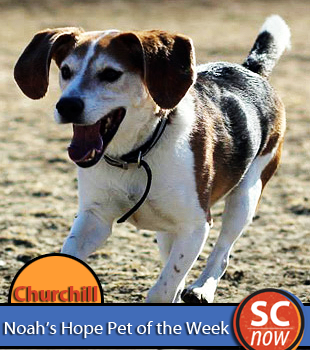 Published on April 16th, 2014 | by Nakia Tyler
0
Pet of the Week – Churchill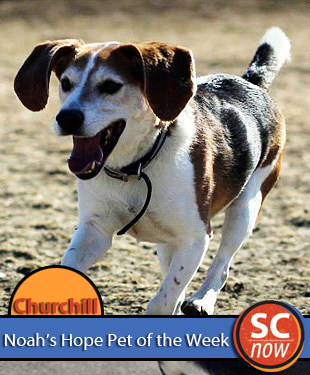 Churchill is a 7-year-old purebred Beagle male who acts like a 2-year-old. He has lots of energy and a loving nature. His foster mom says he is "one of the happiest little beagles I have been blessed to meet. Boy does he have some hops!"
This sweet guy came to Noah's Hope after being returned from an adoption at a local shelter. Apparently he nipped at a toddler who pounced on him, or so the story goes. We have not seen any sign of grumpiness around children, and Churchill has kids of all ages around him in his foster home. He is good with other dogs and loves to romp and play. He was noted to have separation anxiety, but this too has not been a problem in his foster home. As long as he gets plenty of exercise and the love he craves, he doesn't have any issues at all.
Churchill is neutered, has a microchip, and is current on his vaccinations. Because he is a senior, his adoption fee is $85. He has many good years left to be a marvelous companion. If you want to welcome this lovely little dog into your home, please call Deanna at 712-253-8394. Or visit our Facebook page or website for more information:
https://www.facebook.com/NoahsHopeAnimalRescue
Noah's Hope Animal Rescue is an all-volunteer, 501(c)3 nonprofit corporation. We rescue the underdogs: the old, the sick and injured, the used-up by breeders, the forsaken and misunderstood. We nurse them, bring them back from the brink, and give them another chance. We believe they make the very best pets because somehow, they understand and are grateful. 
Photo by Deanna Mitchell Leach