Pets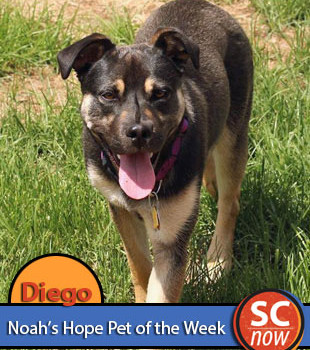 Published on July 1st, 2014 | by Sioux City Now
0
Pet of the Week – Diego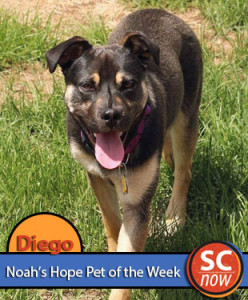 Diego is an 8-month-old German Shepherd mix. He's kennel trained and 95% house trained (he has had a few accidents). He sleeps on the bedroom floor at night and goes outside in the morning. He is still very excited at feeding time so we are working on getting him to slow down. He gets along with other dogs and is curious about his foster mom's cat. They have come nose to nose without any issues. 
This poor pup has never learned how to play and he is just now starting to play with a ball. His chewing has been minimal, which is great for a pup his age. Diego can easily jump a 4-foot fence and he can climb a 6-foot fence. He will need a secured area for his bathroom breaks.
Diego will do best with an experienced owner who because he is a little stubborn. He is very food motivated so with lots of patience and treats he is going to be a very good dog.
If this beautiful boy belongs in your home, please call Deanna about Diego at 712-253-8394. Or visit our Facebook page or website for more information:
https://www.facebook.com/NoahsHopeAnimalRescue
Noah's Hope Animal Rescue is an all-volunteer, 501(c)3 nonprofit corporation. We rescue the underdogs: the old, the sick and injured, the used-up by breeders, the forsaken and misunderstood. We nurse them, bring them back from the brink, and give them another chance. We believe they make the very best pets because somehow, they understand and are grateful.