Pets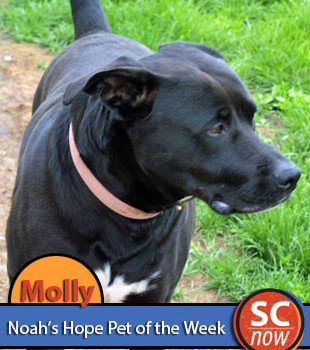 Published on June 18th, 2014 | by Sioux City Now
0
Pet of the Week – Molly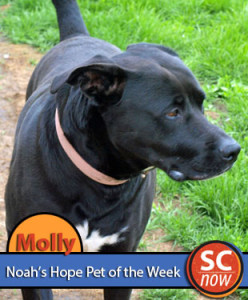 Molly is a 2-year-old black Lab mix who is full of surprises. She was a stray who turned up at a local shelter pregnant. At least she appeared to be pregnant. One of the kind staff people there decided to take her home to have her pups. Only Molly didn't have puppies. It turned out to be a false pregnancy, something that happens occasionally in the canine world. So she had to come back to the shelter and hope to be adopted. 
But her adoption seemed unlikely because she was crabby with other dogs. Most prospective adopters don't want a dog that can't get along with others, and so Molly languished in her kennel. Eventually the shelter turned her over to Noah's Hope to see if we could help her.
We took a chance with Molly and brought her out to Petsmart for an adoption event. Molly surprised us there by being the most wonderful dog. She got along with all the other dogs, and she demonstrated that she knows her commands for sit, shake, and lie down. Apparently she was ornery with other dogs only because she really, really wants to go home.
Molly is still at the shelter and looking for a forever home or even a foster home. One of our volunteers took Molly home for a visit to see how she behaved, and we learned that she is perfectly house trained.
The black beauty is an amazing dog. Please call Deanna about Molly at 712-253-8394. Or visit our Facebook page or website for more information:
https://www.facebook.com/NoahsHopeAnimalRescue
Noah's Hope Animal Rescue is an all-volunteer, 501(c)3 nonprofit corporation. We rescue the underdogs: the old, the sick and injured, the used-up by breeders, the forsaken and misunderstood. We nurse them, bring them back from the brink, and give them another chance. We believe they make the very best pets because somehow, they understand and are grateful.