Food & Drink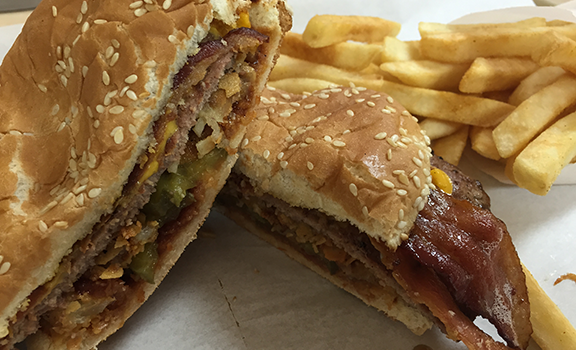 Published on March 5th, 2017 | by Thomas Ritchie
0
Onion rings, bacon make Jim's Western Burger special
Editor's Note: We're reviving some of our favorite reviews so that new fans can check out what we've written about some of Sioux City's best local tastes. Got a new restaurant or food you want us to try – shoot us an email at events@siouxcitynow.com.
Whenever I build my own burger, I load it with toppings until I can just balance the top without it falling off. Then I squish it down.
The big burger I got at Jim's Burgers was about the size of a Burger King quarter pounder, but not as thick as my make-at-home style burgers. It was not char broiled, but it was loaded with condiments.
From the topping perspective, where should I start?
How about with the bacon, since it's sticking out all over the sandwich. Like this thing is a helicopter or something, the bacon hung out of the bun like it was ready to take flight.
And because I have a high tolerance for bacon, I broke off the pieces and slowly ate them first. With my fries. Dipped in hot sauce. That was awesome.
Anyway, what I loved about the Jim's Western Burger is this: I didn't have to mess with it much – I just cut it in half and started eating. And it wasn't messy. I can't tell you the number of lunch sandwiches I've devoured, despite the fact that they were messy as hell. I mean they took three or four wet wipes to clean up. A real mess, for a lunch. Yet I digress.
It is sort of a flat burger to begin with, even though it's got cheese, pickles and, of course, that bacon.
I didn't even get to mention that the thing that makes a Western Burger really Westerny is the onion rings on the burger. These bad boys are big and add a ton of flavor to the sandwich. A sesame seed bun is a nice touch, too, but didn't really impress me much.
They finish the sandwich with a western sauce, which tasted like BBQ, but it really lacks a significant kick. That being said, the sandwich is like none other that I've enjoyed in Siouxland, which makes it worth trying.
My only complaint: I'd rather enjoy a thicker right-off-the-grill style burger than a large Burger King-style patty, but for a local fast food lunch, Jim's really is worth a try. Oh, and their Mexi menu items are also awesome.
The fries at Jim's? Tasty and spiced just right. Too often, fries are too much potato or too much spice. Jim's always gets this right – and I am teased by the spice just enough to add hot sauce to my ketchup and start dipping. Mmm.