Food & Drink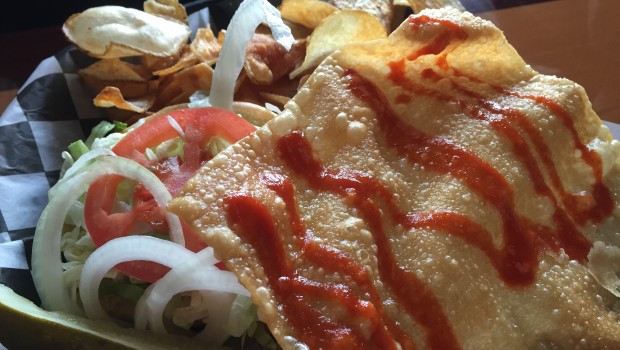 Published on March 1st, 2017 | by Dylan Myers
0
Local eateries provide tour of world flavors
Sioux City isn't the biggest city in the Midwest, but for its size, it has some of the best food you'll ever experience. Almost every local restaurant here has either a five or four star rating on their Yelp profiles.
In 2013, Esquire Magazine named La Juanita's burrito as the 5th most "life changing burrito" in the entire country. When President Barack Obama came to Sioux City for a presidential debate in 2011, and La Juanitas was the caterer, there's no doubt that those enticing Mexican flavors stuck with him.
La Juanita's might reign burrito king, but a world of fantastic flavors await foodies at this and many other Sioux City restaurants.
If you want Mexican, there are unending options here: From the Rudy's Special at Navarette's in Riverside to the Cuban torta (right) at Guero downtown, south of the border tastes abound.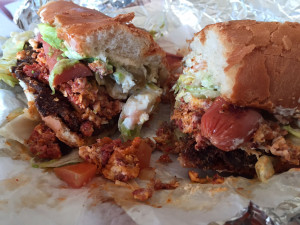 If it's a classic pie you're craving Sioux City has you covered too. Tony's Pizza makes a wonderful pizza because Tony is actually in the back cooking them fresh from scratch himself. Tony is Italian and takes pride in his craft, which you can watch as your pizza comes out cooked to perfection.
Jerry's pizza is another hometown hit because of its tasty pizza and delicious crust. And those spices are irresistible.
El Fredo's Pizza, though, is a must-try for pizza connoisseurs. Their sign out front claims, "the secret's in the sauce" and they're not lying. I've tasted pizza from all over and nothing compares to the standout flavor of an El Fredo's pie.
Another classic restaurant in Sioux City is The Milwaukee Wiener House which has been serving up the perfect chili dog since 1918. The atmosphere is simple and nostalgic, and their mouth-watering chili is homemade. A couple of chili dogs and a classic soda pop are the perfect lunch for anyone.
If you're wondering where the tavern or the loose meat sandwich originated, look no further than Sioux City. We gave birth to this classic sandwich back in 1934 at Ye Olde Tavern, so it only makes sense that we have the most delicious one in the country.
This sandwich has since been perfected by Miles Inn, which is a fun neighborhood bar (some might say dive bar) that has only one thing on its menu: the Charlie Boy. Well actually, there is the Charlie dog, but Miles' claim to fame is its famous beef and cheese sandwich. The Charlie Boy is a homemade loose meat sandwich topped with cheese, covered in pickles, onions, ketchup and mustard.
If you enjoy a tavern or if you're a fan of the sloppy joy then a Charlie Boy is a must.
If you're looking for a Chinese or a Vietnamese menu but don't know where to turn, don't worry, Da Kao has you covered. When you walk in to this 7th Street mainstay, it's hard not to miss the wall covered in food awards. Their authentic menu is nearly 150 items deep, so they're bound to have a meal that will satisfy your taste buds. Their Pho is wonderful. As are their noodle bowls with fresh greens. And their hot and sour soup is the best around. if you're like me and enjoy coffee after your meal, then try their Vietnamese iced coffee – it's sweet, rich and wonderful.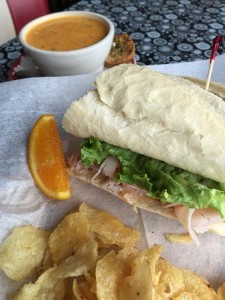 If it's authentic and spicy Thai food your stomach craves, than Pete Utthachoo, owner of Diamond Thai Cuisine, has exactly what you need. Utthachoo is one of the nicest restaurateurs to talk with, and he always has a smile on when he treats his customers. My favorite dish from Diamond Thai is their beef pad thai and an order of fresh spring rolls. Their spring rolls are hand made, are delicious and served with a tasty sweet chili peanut sauce. Yum.
If you're looking for cool atmosphere and a light breakfast or lunch than Pierce Street Coffee Works is the perfect place. Their sandwiches (left) and coffee are crafted right in front of you just behind their counter, and the walls are covered with awesome local artwork. Their salads and sandwiches are unique, fresh and delicious. My family loves their homemade muffins, but you've gotta get there quick if you want one because they go fast! This is great place to bring your friends, family members or just a good book
One of the biggest supporters of Sioux City's farmers market is Israel Padilla, owner of the Italian restaurant Trattoria Fresco. Trattoria Fresco translates into, "fresh from the factory" which makes sense because he gets most of his ingredients fresh from the farmers market. You can taste this freshness in every dish. Start with a a seafood or Antipasti app, and move on to a pasta dish, like their delcious Linguini Frandiavola. I've never ordered a meal from here that I haven't fallen in love with. Trattoria Fresco has a great atmosphere and is a place where you can bring family, friends or even a special date.
One of the newest local hot spots in Sioux City is The Diving Elk. In the early 1900s, the great people of Sioux City apparently got bored and as a form of entertainment would watch elk dive off a tall platform into the Big Sioux River. So if you were curious about the name as I was the first time I heard it, there you go.
The Diving Elk has a drink menu with a huge variety of craft beers and a food menu that gives a unique spin on pub food. The first time I ate The Diving Elk, I ordered an IPA and the sriracha-honey lime brussels sprouts as an appetizer. Brussel sprouts have a bad rep but trust me, these things were freaking amazing. For my main meal, I ordered the Elkwurst which is a jalapeño-cheddar elk bratwurst covered in sauerkraut and stoneground mustard all within a pretzel roll. A veritable taste bananza, both items made me excited to come back to try new items!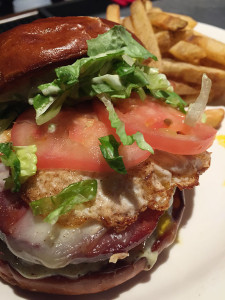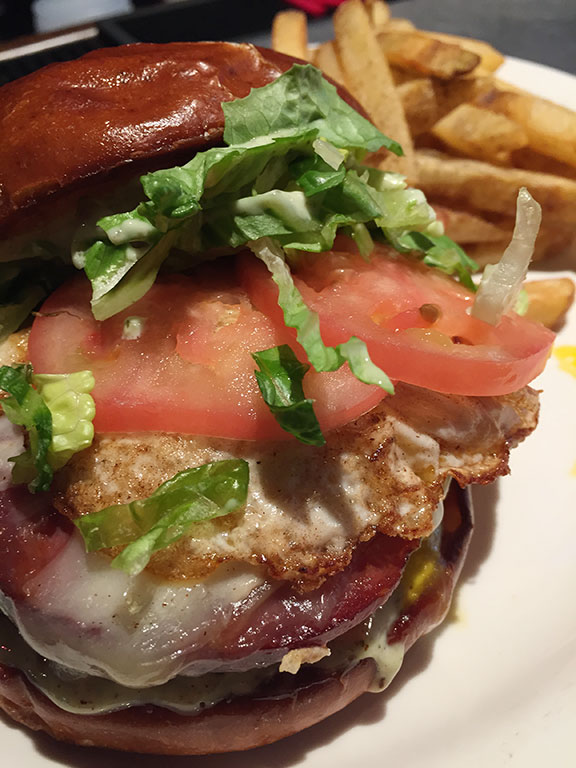 Along the same lines as Diving Elk is the 21st Amendment, which has a great menu of appetizers – the shrimp scampi is a favorite – and sandwiches (like the capacola burger at left). It's a whole lot more than pub food.
We didn't even mention Main + Abbey at the Hard Rock, which has a deep menu of great food, many sourced regionally, Kahill's, which has America's best burger, and Soho, which has a bevy of creative burgers. Whew – this list is getting long. It's time for something sweet.
Last but not least, doughnuts. Sioux City has some darn good doughnuts.
They're called Sunshine donuts and the local coffee shop Jitters has been serving them up for a number of years. Sunshine doughnuts disappeared in Sioux City for awhile when the old cafe and grocery store they were served at, closed. But the owner of Jitters didn't want to see them go, so she decided to hunt down the same doughnut machine used in the old grocery store cafe and got it working again.
Sunshine doughnuts are made in a variety of flavors and are served warm so they melt in your mouth. Chocolate, sprinkles, coconut, nuts and more. I guarantee you have never had a doughnut like this.
Sioux City has many other fantastic local eateries, but these should get you started.
Sioux City might be considered a medium size town. But I dare any big city to challenge us to a cook off. Seriously, bring it on!
Information for restaurants mentioned can be found listed below.
La Juanita
Address: 1316 Pierce St.
Phone: 712-279-0772
Tony's Pizza
Address: 1917 Pierce St.
Phone: 712-258-0507
Jerry's Pizza
Address: 1417 Morningside Ave.
Phone: 712-276-1359
Address #2: 328 W 25th St.
Phone: 712-252-5105
El Fredo Pizza
Address: 523 W 19th St.
Phone: 712-258-0691
Milwaukee Wiener House
Address: 301 Douglas St.
Phone: 712-277-3449
Miles Inn
Address: 2622 Leech Ave.
Phone: 712-276-9825
Da Kao
Address: 800 W 7th St.
Phone: 712-252-3937
Diamond Thai Cuisine
Address: 515 W 7th St.
Phone: 712-258-2343
Pierce Street Coffee Works
Address: 1920 Pierce St.
Phone: 712-255-1226
Trattoria Fresco
Address: 416 Jackson St.
Phone: 712-224-4416
The Diving Elk
Address: 1101 4th St.
Phone: 712-234-0000
Jitters
Address: 306 Virginia St.
Phone: 712-255-9211
21st Amendment
Address: 1008 4th St.
Phone: 712-255-5973
Guero
Address: 525 Pearl St.
Phone: 712-252-9084
Navarette's
Address: 2421 Riverside Blvd.
Phone: 712-252-7795