Pets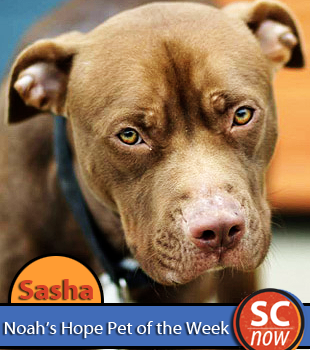 Published on March 11th, 2014 | by Sioux City Now
0
Pet of the Week – Sasha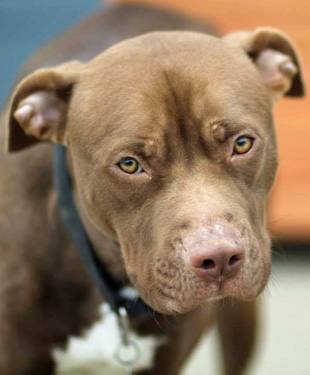 Every rescue has one special dog that all the volunteers hope for. It is a distinction that is passed along like a baton in a relay race, from dog to dog, as they come into the rescue and eventually go into great homes. Right now, in Noah's Hope, the baton holder is Sasha.
Sasha's owner took her to the vet to be euthanized at 11 months of age because she can't walk quite the way other dogs do. Our theory is that she had a brain injury or congenital defect that affected her motor skills. All her legs are normal, but her gait is wobbly, and if she falls, she flops around before she gets up. That was her condition when Noah's Hope rescued her. Now she has been through physical therapy at the skilled hands of Jean Gill at Four Paws Fitness and Rehab in South Sioux City, and her odd walk is barely noticeable. She is a completely happy girl who loves to romp and play. She doesn't know there's anything wrong with her. We think she's right.
Even with her disability, Sasha's biggest challenge is her breed. She is a pit bull. She is the sweetest, most loving dog her foster mom has ever cared for – but she is a pit bull. She will not be allowed to live in Sioux City or other cities that practice breed discrimination.
Sasha, now about a year and a half old, is dog and cat friendly, house trained, spayed, rehabilitated, fully vetted, and ready to come home with you. If you live in an area that allows pit bulls and want to adopt this gorgeous girl, please call Deanna at 712-253-8394. Or visit our Facebook page or website for more information:
https://www.facebook.com/NoahsHopeAnimalRescue
Noah's Hope Animal Rescue is an all-volunteer, 501(c)3 nonprofit corporation. We rescue the underdogs: the old, the sick and injured, the used-up by breeders, the forsaken and misunderstood. We nurse them, bring them back from the brink, and give them another chance. We believe they make the very best pets because somehow, they understand and are grateful. 
Photo by Deanna Mitchell Leach