A&E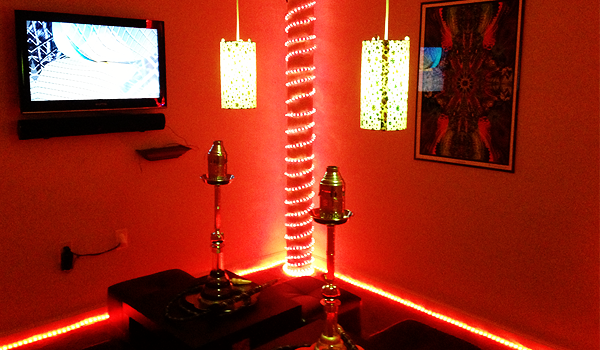 Published on August 14th, 2013 | by Nakia Tyler
0
Sioux City Adventures: 10 Things That Make Hookah Hangout Awesome
By Nakia Tyler
In my introduction, I admitted that I am a creature of habit, and that, if given a choice between something familiar and something new, I will almost always go with the familiar.
I take some personal responsibility for that, but at the same time, there have been occasions when I've wanted to try something new, but had no idea what my other options were. To me, Sioux City has always seemed to lack a variety of things to do, especially after 10pm.
So, when we caught a glimpse of the Hookah Hangout sign on Floyd Boulevard, my friend and I were really excited about it. We gave it a shot a few weeks ago, and I had such a blast that I had to go back again, and write about it as one of my Sioux City Adventures.
First thing's first. I am not an expert on the topic of hookah. Any attempt on my part to explain what it is our how it works will result in disaster. If you're not familiar with this practice, please pull up your search engine of choice, type in "hookah," and you will have a wealth of knowledge at your fingertips. Don't worry, I'll wait.
Now that you understand the basic concept of hookah, let's get this Adventure started!
Okay, here's the deal: Hookah Hangout is awesome. But I don't want you to take my word for it. I want you to go and try it, because it really is something that you have to experience for yourself, in my humble opinion.
That being said, I'm going to share with you 10 things that made my experience with Hookah Hangout awesome.
#1: The Staff
Trying something new is scary. Even though I'd smoked hookah before, I'd never been to a hookah bar, and I was a little apprehensive about going in. That feeling almost immediately disappeared because we were so warmly greeted by the staff. From the second we walked in the door, to the time we walked out, they made sure we had what we needed to feel comfortable. It doesn't matter where I go – outstanding customer service is always appreciated!
#2: The Menu
I was impressed when they handed us a menu with all of our options. The variety of flavored tobacco that they have available ranges from earthy to fruity and everything in between. They have basic flavors, premium flavors, and hydro herbal flavors, which have no nicotine in them. That was definitely a plus for me, since I'm not a smoker. Their menu also includes drinks and snacks. I cannot tell you how excited I was that they have Diet Cherry Coke! I'm easy to please, what can I say?
#3: The Bathroom
As a general rule, I don't use public restrooms, but sometimes nature calls and refuses to leave a voicemail. The bathroom at Hookah Hangout was definitely the cleanest bathroom that I've ever seen. I'm not exaggerating, it practically sparkled. And there was some amazing Alice in Wonderland decor that made my potty time feel slightly more magical!
#4: The Free Wi-Fi
While I was in the super clean restroom, I noticed a sign advertising free wi-fi for Hookah Hangout customers, thanks to their next door neighbor, Short Staffed staffing agency. I haven't had a huge need for wi-fi while I've been there, but I can see how that would come in handy. And maybe I'm just sentimental, but the idea of local businesses helping each other out makes my heart smile.
#5: The Seating Option
When you visit Hookah Hangout, be prepared to make some tough decisions. From the flavor of tobacco you want to smoke, to the kind of snack you're craving, and then there's the type of chair you'd like to sit in. There are high tables with tall wooden chairs, or low tables with softer ottoman-like seats. We tried both, and I personally preferred the latter. The higher chairs were nice, but slightly unforgiving on the backside!
#6: The VIP Room
Who doesn't want to feel like a VIP? For a relatively small fee, you have the option to request the VIP room for you and your friends. Closed off by a curtain, the VIP room offers an element of privacy, like you're having your own private party. It is also equipped with a flat screen TV, as well as an iPod docking station, so you can pick your own music! Hmm. I have a birthday coming up….
#7: The Projection Screens
Adding to the ambiance of the hookah experience are the pair of projection screens that hang on the walls of the front room, which is where we sat both times. Images displayed on the projection screens are other-worldly, featuring dragons, glowing orbs of liquid, and vibrant geometric patterns.
#8: The Products
In addition to setting up a table and sharing a hookah with your friends, you can also purchase products to take home. Hookah Hangout sells the hookahs themselves, as well as the flavored tobacco, or shisha, that you smoke in it. They have hookahs in all kinds of designs and colors, and I may or may not be tempted to buy a pink one!
#9: The Facebook Page
Okay, so this wasn't part of my experience while I was there, but as someone who works in social media, I'm really impressed with the Hookah Hangout Facebook page. If you're curious about giving them a try, but want more information, I encourage you to visit their page. They have everything from customer photos, educational posts, and announcements for new products and flavors.
#10: The Alternative It Offers
I've mentioned before that I don't drink alcohol, but that wasn't always the case. And even now, I'll hang out at a bar if that's where my friends want to go. But, to me, whether or not I like a place depends on its atmosphere. Hookah Hangout is a fabulous alternative to the popular bars located around that same area on 4th Street. It's quiet and laid back, almost intimate. You can hold a conversation with the friends you came with, or make some new friends from the table next to you. I'm not saying it's a better experience than the typical bars – I'm just saying that it's a different option that I happen to prefer!
What do you think? Have you been to Hookah Hangout? I would love to hear about your experience!
Don't forget to comment below with suggestions for my next Sioux City Adventure! I'm open to anything, as long as it's not dangerous, illegal, or harmful to others.
Nakia Tyler is the Junior Firestarter at Team Creative Fire. When she isn't exercising her creative muscle, she spends her time fan-girling over Doctor Who, playing with her adorable niece, and chowing on vegan food. If you see her out and about this summer, feel free to say hi. She'll probably be wearing pink.