A&E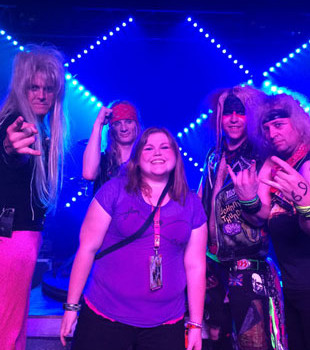 Published on June 24th, 2014 | by Nakia Tyler
0
Sioux City Adventures – 8 Face-Shredding Reasons to Experience 3D in Your Face
I guess you could call me a child of the 80's, since the first seven years of my life were spent in that decade.
I watched Muppet Babies religiously on Saturday mornings, Punky Brewster was the only doll I would play with, and Michael Keaton will always and forever be my Batman.
But when it comes to music, I'm more of a 90's girl.
So, when Sam "Spade" Morris, bassist of 3D in Your Face, an 80's hair metal tribute band that hails from Omaha, called and invited me to come to their Awesome Biker Nights performance at 4th Street Sports Grill, I was a little hesitant.
First of all, I'd never been to Awesome Biker Nights before. It didn't strike me as an event I would enjoy, which was an unfair judgment, considering I knew nothing about it. For example, did you know that a lot of the money raised goes to charity? Super cool. I've already decided that I'm going again next year, and that will be a whole new adventure to write about.
Secondly, I'm hardly an expert when it comes to music of any genre, so please consider that my disclaimer. I'm not a music critic, and this article isn't a professional review. I'm just sharing my own personal opinions and experiences.
Eventually I remembered that the whole point of this column is for me to step out of my comfort zone and see what Sioux City has to offer, and this was the perfect opportunity to do just that.
I was excited, but I was also a bit nervous. I had heard some stories about how wild and crazy things get during Awesome Biker Nights, so I hired my brother to come along as my pseudo bodyguard – and by hired, I mean I bought him a wristband and a cheeseburger – and we set out on the adventure together.
By the end of the night, I came to the conclusion that there are 8 face-shredding reasons why every single one of you needs to experience 3D in Your Face as soon as you possibly can.
#1: Because, HAIR. Duh!
We arrived at 4th Street Sports Grill before the show began, and the stage was hidden behind a curtain, which displayed "80s Hair Show Tonight!" in large, neon green lights.
This turned out to be very appropriate, because The Hair was truly the star of the show. It was fabulous and platinum and teased and long and twisted and huge and very, very 80's.
Seriously. SO. MUCH. HAIR.
#2: And also, costumes!
The hair took first place, but the outfits definitely win for best supporting ensembles. These guys go all out, with bandanas, tight pants, colorful scarves, and individual flare that fit each band member's personality and style.
Vocalist Hot Rod reminded me a great deal of David Bowie, in a Goblin King kind of way, and not just because of his awesome bangs. It was mostly his obscenely tight pants (maybe that's how he hits those crazy high notes?), which were adorned with a digital belt buckle that glowed "It's not going to suck itself" in scrolling, red text. The not-so-subtle touch of perversion, paired with his dramatically flowing cloaks printed in flames and pink lips, gave his persona an enigmatic feel. Even when he was jamming on his keytar.
Sniper was the happiest guitarist I've ever seen, and his most notable accessory, in my humble opinion, was the almost-permanent smile on his face. I would almost call him adorable, but that hardly seems appropriate for a man with the number 69 drawn/tattooed on both hands, and who can, according to his bandmate, "make the ladies feel tingly down there" with just a few chords of Def Leppard's "Pour Some Sugar on Me."
Spade had a more punkish look, with neon-studded belts wrapped around tight black jeans that were covered in various buttons and patches – except for around the knees, which were, of course, appropriately torn. I especially loved his rainbow shoelaces. His face was mostly hidden behind a mask of make-up, with streaks of red, orange, and pink paint swooping from his eyes down to his cheeks, but there was no concealing his enthusiasm as he tirelessly bounced around the stage.
Just as his drumming kept a steady beat all night, Playboy was a constant presence behind the other three band members, occasionally spinning around as he played on top of a rotating apparatus of some kind. His outfit was more understated than the others, but still very 80's – a black Mötley Crüe t-shirt with torn sleeves, and a wide strip of crimson bandana across his forehead. Although his instrument made him more stationery than his band mates, he got his fair share of audience attention when it was time for all the girls to come on stage for a special song!
Unfortunately, all of the photos I took of Playboy were either distorted by the zooming, blurry because he was spinning, discolored by all of the lights, or photobombed by equipment and the other guys. Sorry, Playboy! Here are a few, just to prove that I tried!
#3: It really is a 3D experience.
First came the lights. A trippy laser light show against the front of the curtain I mentioned earlier, introducing the band with a series of bright, moving images in the form of lightning bolts and serpent microphones and blinking eyeballs. Meanwhile, in the front row, a man with a megaphone was shouting "IN YOUR FACE" over and over again.
Next came the band. The only warning we got was a quick "Sioux City, we're bringing the party to you," then suddenly they were jumping off the stage and kneeling in front of it to perform part of their song. From that point on, the entire bar became the stage.
Spade came out in the middle of the floor to kindly remind us that we were at an "f-ing rock-n-roll show," and made us form a circle around him as he played an original song called Bleed Betty Bleed, which is incredibly catchy and still stuck in my head.
At one point, Sniper ran off the stage and I totally lost track of him. I was searching for the top of his blonde head among the crowd, and suddenly realized that I wasn't looking high enough – he was rocking out on top of the bar!
From the shooting beams of light to the constant audience interaction, everything about this show just jumps out at you. It's hard to describe, but for me, it was like I went from being an passive observer to an active participant. I wasn't just listening to the music, or watching a performance. I was part of an experience.
I don't want to ruin all of the surprises (hint: there may or may not have been some fire involved!), because that's what made this so awesome, but take my word for it – these are just a few examples of how 3D in Your Face makes their show live up to their band title.
#4: You might get to help play the bass!
'Nuff said!
#5: You'll hear your favorite songs from the 80's.
Okay, I have a shameful confession to make: I didn't recognize a lot of the songs that 3D in Your Face performed. In fact, it wasn't until I heard Ozzy's "Crazy Train" that I realized they were playing songs from other bands! (Yes, I really am that clueless sometimes!)
That being said, one of my favorite moments of the evening began with the unmistakeable intro to Bon Jovi's "Livin' On a Prayer," which I then proceeded to sing along with the band (and the crowd around me) without any care for how off-key I was. It was then that I realized something really important. This genre truly is timeless, despite being labeled by the decade it came from.
#6: Their original stuff is good, too.
Speaking of important information, here's a fact about 3D in Your Face that you need to know. They're not just a cover/tribute band. They recently released their 4th album of original material, called "Midnight Devils," which I purchased, and totally love.
The neat thing about the album, in my very humble opinion, is that, while it sounds totally and completely 80's, it also sounds totally and completely modern. It doesn't sound dated or recycled or been-there-done-that. I'm not an expert when it comes to reviewing music by any means, but to me, it sounds very fresh and genuine, like these guys know who they are, and they do what they love to do.
You can download "Midnight Devils" on iTunes, purchase signed copies on Ebay, or even listen to it on Rdio if you are a subscriber.
If you'd like to get a little taste of what's in store for you on the album first, you can check out the video for their single, "In Your Face."
Or check out their SoundCloud page.
#7: You will probably make some new friends.
I don't know what rock stars were like back in the 80's, but I can tell you that the guys of 3D in Your Face were really nice and down to earth. I didn't spend a ton of time with them, but the few interactions I had with the band and their team made me feel like I just made a bunch of new friends.
From the very first phone call to the last hug good-bye, they made me feel comfortable in a situation that was very foreign to me, and that meant a lot. It's no wonder they have such a loyal fan base in their hometown of Omaha to warrant a standing weekly performance at The 21st Saloon in the winter time!
#8: If I loved it, everyone would love it!
What it all boils down to is this: 3D in Your Face is an experience that pretty much anyone can love. I know that, because I truly, honestly enjoyed myself.
In fact, I had such a good time that, when my brother wanted to leave after the first set, I told him to go ahead and go, and I would stick around. On my own.
And if I, Nakia Tyler, who has little knowledge of 80's hair metal, fears going to new places, dislikes loud noises, doesn't drink, and feels incredibly shy in large groups of people, can go into a very crowded bar during a huge biker rally and rock out with a band whose entire theme is based on something I know very little about, and walk away from the experience feeling as happy and excited as I did?
I honestly don't know if I can even comprehend how awesome it would be for other people, but I imagine it would be pretty f-ing amazing!
If you missed 3D in Your Face while they were in Sioux City this weekend, fear not. Their Summer Tour is still going strong. You can catch them in Omaha, Ames, and Fremont in the coming weeks, among other locations. So be sure to check out their tour calendar and make some plans today!
No, seriously. Do it. You'll have a blast, I promise! And if you don't? Well, then you might be even lamer than me, which is pretty sad. Don't be lame, people. Live a little.
Speaking of living – what should I do for my next adventure? Let me know by leaving me a comment!
Nakia Tyler is a Project Manager at Team Creative Fire. When she isn't exercising her creative muscle, she spends her time fan-girling over Doctor Who, playing with her adorable niece, and fueling her shopping addiction. If you see her out and about having adventures, feel free to say hi. She'll probably be wearing pink.