Food & Drink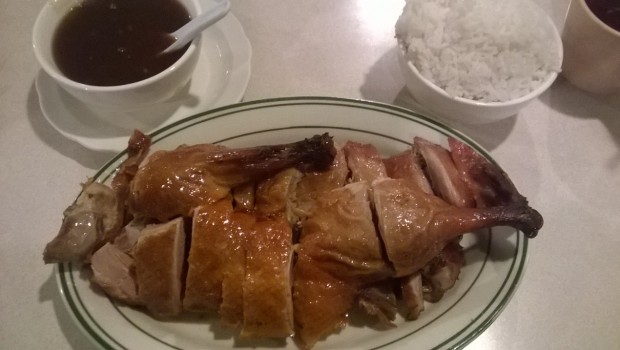 Published on January 19th, 2016 | by Ivy Sweet
0
The secret to Da Kao's Roasted Duck is in the sauce
Duck is the Vietnamese equivalent of chicken.
At least, that is the impression I got when I walked into Da Kao Restaurant and ordered Com Vit Quay –roasted duck over steamed rice – for the first time.
I was a little nervous; when I order at Da Kao, I usually get a box of combination fried rice because I already know that I find it delicious. Having never tried a duck dish, I had no idea what to expect. Nonetheless, the name of the dish jumped out at me on the menu and I was in the mood to try something new.
I kept my fingers crossed as my half of a duck was placed in front of me on an oval plate, sliced up into evenly sized dark brown pieces. However, my nerves were put at ease on the first bite.
Roasted duck tastes remarkably similar to chicken. So if you are a fan of chicken (as most meat- loving Americans probably are), then I would highly recommend the Com Vit Quay. (And no, it's not like in "A Christmas Story" – the head has been removed prior to serving and you can't tell it's a duck by looking at it on the plate. Thank goodness.)
The menu describes the duck as being roasted "over steamed rice," but the white rice was served in a bowl as a side dish to the duck rather than being on the plate underneath. The duck was also accompanied by a side bowl of "duck sauce" for dipping the pieces in.
I have no idea what ingredients were in the duck sauce or what else it might be called – the waitress did not seem to know and admitted that she had never tried the Com Vit Quay before – but it added extra flavor to both the duck and the plain white steamed rice. I would say the duck sauce made the meal for me, and it was optional – for no extra cost!
Even with dipping sauce, roasted duck is much less messy to eat than a bucket of fried chicken.
Though I did get a minimal amount of grease on my fingers from trying to pull some of the pieces apart; it was not cut all the way through so I had to attempt to cut it myself with a knife that was not quite sharp enough.
Despite ordering only half of a duck, I was full after only eating a little over a third of my portion. Getting another two meals' worth of leftovers was definitely worth $8.75, though.
All in all, it was a satisfying meal that I would definitely order again – I'm all about that duck sauce.