Community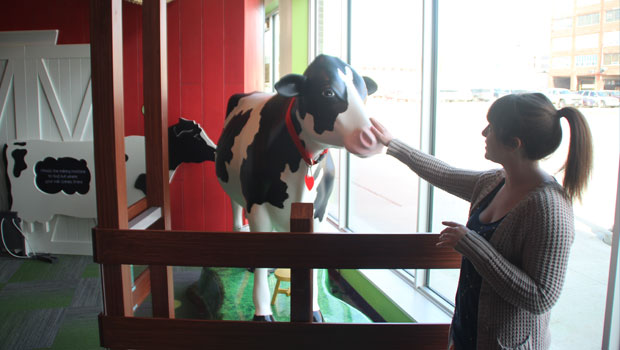 Published on February 15th, 2016 | by Ivy Sweet
0
5 LaunchPad exhibits that leap out at you
You don't have to be a kid to enjoy exploring Sioux City's new children's museum.
I came to this conclusion after taking a tour of LaunchPad, located at 623 Pearl St., and getting to explore the cool things that the new museum has to offer.
Although it is clearly geared toward children, LaunchPad's exhibits offer fun for the whole family and are definitely worth checking out at any age. So, with that in mind, here are five things that stuck out to me on my LaunchPad adventure:
1. They have a water exhibit with real rain clouds
Okay, so they're actually simulated rain clouds, but they're still pretty cool. The entire exhibit is actually a little river designed to show kids how the water system works and how water can affect certain things.
"We have working rain clouds to teach kids about flooding," said Valerie Peterson, LaunchPad's outreach director. She pressed a button on the edge of the exhibit and water came thundering down on an area with little Lego structures.
There are also little boats to race – but there's more to the race than just watching the little boats float away.
"The boats are different sizes, so we can see how that affects their speed," said Peterson. "Kids can see how different factors affect things and figure out why it is that way."
The end of the river also included one more awesome thing – a little pond area with artificial lily pads, fish, frogs, and three different species of turtle. Kids can play with the models of the animals and set them on the lily pads (disclaimer: the alligator snapping turtle is too heavy and will slip back into the water).
2. Kids can see how much they weigh in terms of objects rather than pounds
"This is the only exhibit we have with a screen," Peterson said.
It's pretty simple – kids (or adults) just stand on the weigh station and the screen will tell them how much they weigh. But instead of providing a standard weight, the machine determines how many of a certain object a person weighs. This is designed to provide children with a different way to perceive weight.
"It tells you how much you weigh with fun things like how many pencils you weigh, or how many apples," said Peterson. "A kid might know they weigh so many pounds, but they aren't able to picture that. But they could picture six apples stacked on top of each other. It gives them a better understanding of weight."
3. There is a giant Lite Brite
Yes, many of us probably had a Lite Brite at some point when we were children. But LaunchPad takes Lite Brite to another level – theirs is huge.
"I went to a children's museum conference and they had one of these there," said Peterson. "I said, 'We have to get one [for our museum]!'"
Attempting to spell things with the giant light up pegs is more difficult than it looks. Kids can have fun (or frustration) trying to get their pegs to line up to form words.
4. You can milk a cow
Okay, so maybe this won't be the most exciting thing to everyone, but I had never done it before. The cow is not real, of course, but you can tug on her artificial utters and squirt liquid into a bucket. Yay!
The cow is part of an agriculture exhibit in which there is also a chicken coop, complete with eggs that can be harvested from the stuffed chickens, and a mama pig with her stuffed babies.
"It's kind of gross," Peterson said, in reference to the suckling piglets. "But it's also cute. Little girls love it. I think it brings out that motherly instinct in them."
The farm also has a vegetable patch from which kids can harvest corn and carrots, weigh cucumbers, and play a game of concentration with cabbages. It's all part of teaching kids about the origins of food.
"We wanted to show [the kids] where food comes from and how it ends up on their plate," said Peterson. "So we show them the journey from farm to market."
Which brings me to my final thing…
5. Kids can go grocery shopping and serve food in a little café
Yes, there is a grocery store complete with little plastic shopping carts and baskets that kids can put their food in. The store offers quite a variety, from Blue Bunny ice cream to cat food.
An interesting thing to note is that the groceries were actually real food containers that were donated to the museum.
"We sent them to a company to have them filled and sealed," said Peterson.
Next to the grocery store is a café and kitchen where kids can prepare and serve each other food (or pretend to, anyway). There are also little malt machines, complete with plastic scoops of ice cream, for kids to practice dessert-making.
"The cool thing is watching the kids figure it out," Peterson said. "They don't know what a malt is, but they still know what to do [with the malt machine]. It's pretty interesting."
LaunchPad opens to the public on Thursday, February 11. Hours will be 10:00 a.m. to 4:30 p.m. Tuesday – Friday, 10:00 a.m. to 5:00 p.m. Saturday, and 1:00 p.m. to 5:00 p.m. Sunday. Admission fees are $8 for an entire day of exploration or $85 for an annual membership.