Food & Drink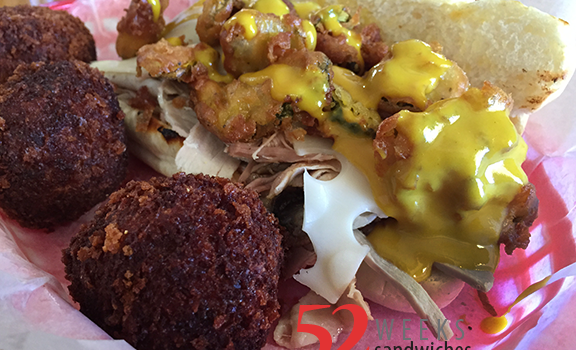 Published on November 25th, 2014 | by Thomas Ritchie
0
52 Sandwiches: Quirky Q-Ban pairs smoked pork, fried pickles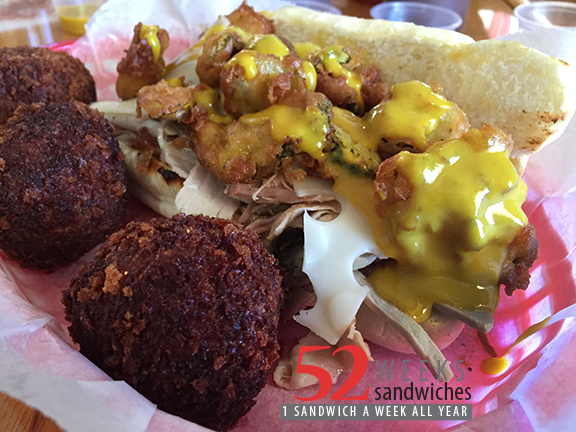 To say that Derek at the House of Q comes up with some pretty crazy, and amazing, sandwiches, is to state the obvious.
Case in point: The Q-Ban. You see what he did there – it's pronounced Cu-ban. Fun stuff, just like the sandwich.
First off, I should mention that this lunchtime gem was not at all what I went to House of Q to eat – Derek's brisket and pulled pork sandwiches are classics, as are specialties like the Cujo, which I would recommend to anyone who loves a lot of meat between their buns.
I went for the smoked meat. But Derek has a way of surprising customers with monthly specials like the Q-Ban and taking them on a food journey to the land of smoky deliciousness.
Let's just say that curiosity got the best of me, and I went Q-Ban.
So what is it? Let's begin with the bread, which is merely a vehicle for its food passengers. I rarely tasted the toasted hoagie-style bun, in fact.
Sure it was good, but when you layer it with a pound or so of hickory smoked ham and hickory smoked pulled pork, it was go time. Add Swiss cheese and homemade honey mustard and you have a perfect sandwich, right?
Well, this is where things get interesting. In a restaurant where you can get fried Mac and Cheese or Sauerkraut balls, nothing is as you would expect, except the flavor.
Enter the lowly fried pickle. Usually an afterthought on an appetizer menu, these thin slices of of summer's goodness take center stage in this overloaded sandwich. Crispy, fresh and plentiful, the pickles were falling off of the bun.
Of course the sandwich will fill you up. It's also a nice diversion from the traditional BBQ. I think it was the honey mustard and pickles that made this food tour so new – I would never had concocted this menagerie of ingredients. And that's what makes eating at the House of Q an experience. The decor ain't too fancy, and the music is great, but the food is truly the star of every show.
I tried the sandwich with a side of fried sauerkraut balls, which were rich and tasty, but I'd go back to the home style fries next time. The balls are made of sauerkraut, pulled pork and cream cheese, and it proved to be a lot of beef for one meal. Said no one ever. Just kidding – it was a lot to eat, but I left full, which was all I could ask for.