Food & Drink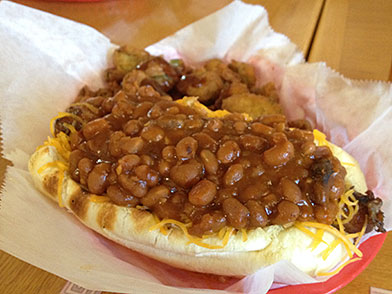 Published on May 5th, 2014 | by Sioux City Now
1
52 Sandwiches: Cujo is tasty dawg with a bite
Literary-minded gourmands know that Cujo was the rabies-infected St. Bernard title character in novelist Stephen King's thriller "Cujo."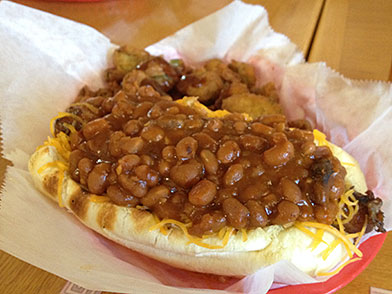 Which is a helluva way to begin a food review, yet we'll proceed anyway.
A specialty sandwich at The House of Q, the Cujo is a spicy sausage that's topped with chopped onion rings, cheese and a sea of smoked baked beans, served inside a hot dog bun. You read that right.
So, did the Cujo give us rabies? Nope, but we were foaming at the mouth to try one of these monstrous sandwiches.
For more than four years, Derek Lochner's The House of Q has secured a local reputation for barbecue done right.
With menu items like "Heaven on a Bun" (a smoked burger topped with cheese, a spicy link sausage and brisket); "Q-ritto" (Pulled Pork, Big D Baked Beans, Cheese, and Coleslaw wrapped in a Tortilla Shell); and "Cluck & Squeal" (1/2 of a chicken, 1/2 of a rack of baby back ribs, three side dishes and four cornbread muffins), it's easy to see that Lochner isn't opposed to a li'l meat-on-meat-on-meat action.
In fact, The House of Q is a place where indulging your inner carnivore isn't suggested. Rather, it's advised.
And the Cujo is a good place to start. First, the sandwich's spicy sausage is nicely seasoned and produces the perfect snap on the first bite. That's important since it's layered with tons of chopped-up deep-fried onion rings, gloppy cheese and Lochner's own "Big D's" baked beans.
It would be understandable if one (or more) elements to emerge soggy in this sandwich, but that's not the case with the Cujo. Instead, all of the elements work in tandem, producing a cacophony of beautiful musical notes inside a deeply layered (and deeply satisfying) sandwich.
Did the Cujo send us howling? You betcha! This is one dawg that you'll wanna bite back!
Restaurant: The House of Q
Location: 2520 Transit Ave., Sioux City
Sandwich: The Cujo