A&E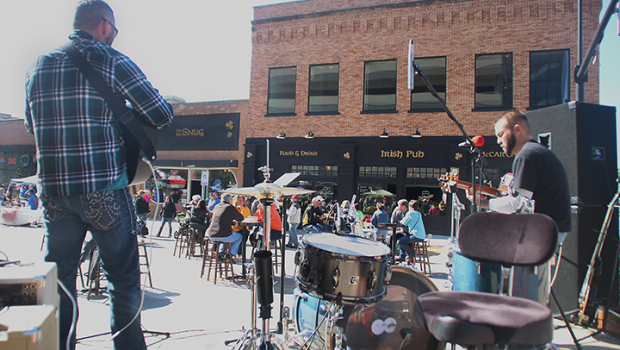 Published on October 11th, 2014 | by Sioux City Now
0
Sioux City's first Baconfest a salty success
The 2014 Habitat for Humanity Baconfest was held Oct. 11 on Pearl Street in downtown Sioux City, and the event proved to be a salty success of those who attended, me included.
A variety of tasty bacon-tinged treats awaited attendees. From bacon-topped funnel cakes to Bacon Bloody Marys and bacon walking tacos, there were plenty of options to suit every bacon-lover's dreams.
The event was a fund-raiser for the Siouxland Habitat for Humanity, and attracted hundreds of attendees. There was live music by Premium Draft and No. 7, football on the big screens, family games and of course, America's favorite meat.
I started with the smoked bacon-wrapped chicken breast from House of Q, which was delicious, and likely one of the healthier options of the day. I smothered them in Derek's spicy sauce and could have ended there. But why?
Next we tried the fried bacon BLT from Clydes Grill – an especially sweet sandwich on toasted bread and topped with greens, sauteed onions and a tomato jam spread. This one I want to recreate in my own kitchen as it was especially delicious.
For dessert, my kids and I destroyed a funnel cake topped with bacon and maple drizzle made by the Heelan vocal team. Mmm. This was incredible.
My kids thought it wasn't enough, and topped it off with chocolate ice cream cones with chocolate-covered bacon bits on top from the Western Iowa Tech culinary team.
There were plenty more options, include the Bloody Marys, which were equally delicious when garnished with a chunk of bacon and pickled asparagus, olives and a pickle.
All in all, a great first year event.
Here are photos from the event.