Food & Drink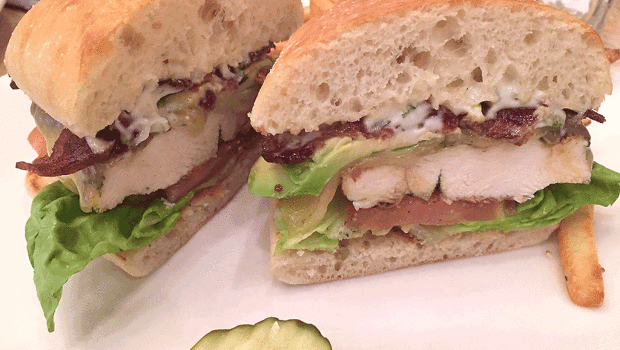 Published on April 9th, 2015 | by Thomas Ritchie
Everything is tasty in Minerva's Chicken Avocado BLT
Let's face it: sandwiches rock.
Start with bread.
Add a grilled protein.
Find something fresh.
Cover in condiments.
Finish with bacon.
It's not too hard to mess up, but it is, at times, difficult to combine the flavors in just a way as to make it perfect.
So when I saw the grilled Chicken Avocado BLT at Minerva's I was all in. The toppings just sounded like a tasty, healthy combination.
I don't usually start with the bun, but I will with this sandwich. Since it's merely a vehicle for what's inside, most places don't go to much trouble to ensure that it's memorable. That's not the case here. The artisan roll was salty and fresh, and was the perfect package for this lunch staple. Just enough bread to add flavor and hold it together, but not too much to fill your mouth full of unnecessary dough.
I don't mention condiments in my reviews much because they are rarely notable (unless they are messy). But again, the folks at Minervas do a nice job of adding the right flavorful finish to this BLT with their herb mayo, which utilizes Italian flat leaf parsley. I licked the drippings off my fingers. Overall, there wasn't much mess, which I appreciated.
Now, about the guts on this sandwich, I will say this: they all played nicely together. No falling off the bun, no topping overpowering the others and each complementing the others.
The grilled chicken was nice sized, and was covered with smoked gouda, which was hot and stringy. Nice choice on the gouda. More subtle than Swiss, and not as cliche as provolone. The smoky finish went well with the grilled breast.
I liked the avocado, namely because the chef could have left this off the sandwich and most people wouldn't notice. But it really adds a fresh flavor complement. And it's healthy. too.
I'm a bit finicky on tomatoes. I like the smaller, meatier Roma style. I'm not sure if these were Romas, but the two small slices were sweet and slightly juicy. Again, the flavors just kept coming with this zesty lunchtime treat.
The bacon added the final note of delicious on this fine stack. They use an applewood bacon, which I'm sure adds extra flavor. I'm no expert on applewood bacon, but I know that it's bacon, and apples are cool, so that's all that matters.
I'll eat this BLT again sometime, and I'd recommend it to anyone who likes avocados, chicken or bacon. Eat up.