Live Music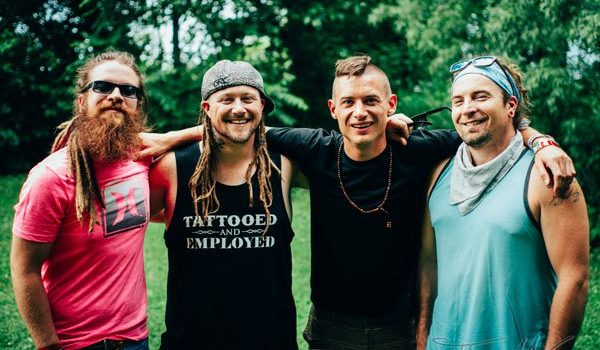 Published on November 3rd, 2016 | by Thomas Ritchie
0
Jon Wayne and the Pain: Taking the jam band to new heights
Electronic, reggae, funk combo plays Vangarde Arts Saturday
Minneapolis musical innovators Jon Wayne and The Pain have carved out a niche that few can touch. They've laced together a blend of reggae, electronic beats, and psychedelic funk that when squeezed through the sausage maker comes out as cosmic ear candy. OK, that's a mouthful, but this jam band really has a lot going on in its songs, and has been mesmerizing fans at live shows for nearly a decade.
The Twin Cities based ensemble burst onto the scene in 2007, following their debut self-titled album. Since then, they have been building a dedicated Midwest following with extensive touring. This Saturday, they'll grace the stage at Vangarde Arts, 420 Jackson St., at 8 p.m. in Sioux City for the second time. And their live set is a must-see for jam music fans.
Over the past few years, the band has gained momentum with invitations to some of the nation's most renowned music and art festivals, including Electric Forest, Summer Camp, Cali Roots and Wakarusa, to name a few.
We caught up with Jon, the band's front man, to talk about the band, inspirations and life on the road.
Question: Jon Wayne and the Pain has developed a sound unequalled across the Midwest. Who or what inspires you each day?
Answer: I would say we get inspired by each other in the band equally to the music we listen to in the van or at home. We've got all kinds of influences circling around from Reggae to HiHop, Folk to Electronic and beyond. Our bassist Chuck is somewhat of a producer himself and brings a lot of the electronic sounds and deep dub stuff. Teeto our drummer is just a badass and can play virtually any style and play it well, he even sings now too. Weston plays sax, flute, keys, sings vocal harmonies and also plays this very unique instrument called the E.W.I. which stands for electronic wind instrument. Its basically like a synth sax that lends itself really well to the electronic songs. He's an amazing musician.
Then I myself am more of a reggae, rock, singer-songwriter type who attempts to play lead guitar as well. Together we've brought all of these elements together and formed a musical style that might be roughly explained in the reggae/electronic realm but cant really be fully defined.

Q. If you could open for any major musical act in history, who would it be and why?
A: I would wanna open for Red Hot Chili Peppers at Red Rocks. Not sure why, just think that would be great. They also defy any specific genre as we do.
Q. What was the first album you bought as a kid? What inspired you to buy it?
A: First album I bought was Pearl Jam 10 in 1992. It was around christmas and I got it from a Sam Goody record store. It was a cassette tape and played the shit out of it. Still love Pearl Jam to this day as well as Eddie Vedder's solo stuff.
Q. What's the most negative musical critique you've received in your career and what did you learn from it?
A: I think back in the day someone told us we sounded just like Sublime. Originally Sublime was quite possibly my biggest musical influence in the realm of songwriting and singing. Now, I think they may have meant it as a compliment but to me it wasn't and I also think it may have propelled me to start writing songs differently and push outside my comfort level. I don't wanna sound like Sublime, I wanna sound like Jon Wayne & The Pain. And now I think we really have found our own sound. It feels good.

Q. What 3 bands are getting the most play in your iPod right now?
A: Xavier Rudd – Nana (his reggae album)
Red Hot Chili Peppers – The getaway (their newest album)
Atmosphere – When Life Gives You Lemons
Q. You're on the road a lot – what's your favorite road food and why?
A: It all depends. There is so much bad food available that americans gobble up without hesitation. All these big name fast food restaurants are referred to as "Choke And Puke" by us and we wont eat there. But occasionally we find a nice mom and pop diner or great Mexican restaurant that has homemade food that is just amazing. Also we do like to hit up the food coops in any given city and fill up on some good stuff. Rarely we will find a kickass Thai restaurant as well, and I love that.