Food & Drink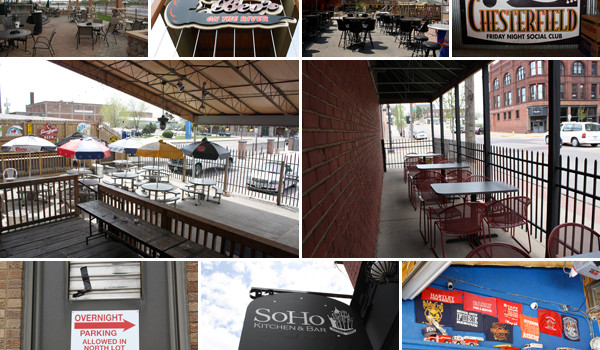 Published on June 10th, 2013 | by Sioux City Now
0
Kick back, relax on these Sioux City Patios
Nothing says summer like sitting on a patio with a cold drink and a tasty meal. Throw in some live tunes and you've got yourself a party. Here in Sioux City, there are several outdoor spaces where you can kick back with some friends, relax and enjoy the summer. Therefore, we decided to go on a Siouxland Patio Tour so we can share all of these glorious locations with you! Each stop has its own vibe, were locals and tourists gather together for great eats and groovy tunes.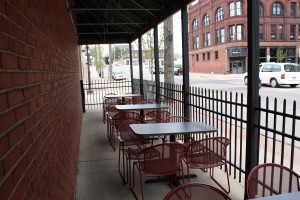 Soho Kitchen and Bar
When perusing Sioux City's historic downtown, don't miss Soho Kitchen and Bar's Court Street patio (left). Soho is a cool, relaxed joint with just the right splash of class. Located on 4th Street next to the Jet Bar, Soho supplies its customers with fabulous food and everything from top-shelf specialty liquor to imports and microbrewery selections. And check this out: they even have an outdoor patio next to the entrance."Our patio gets pretty busy in the summer," says Soho employee, Ally. "Carrie Underwood was just in town, and we had many people outside, taking advantage of the nice weather."
Evenings and special city events such as Biker Nights draw many folks together for a fun, chill evening at this neighborhood bar and grill.
Bev's On The River
Looking for scenery? Bev's is known by many to have the best view in town (right). Perched on the river next to the Hilton Garden Inn, this restaurant offers top-notch drinks and eats alongside picturesque views, glass-rock fire pits and a portable bar.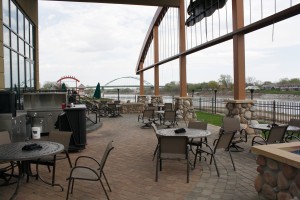 "Our busiest patio times are 11 a.m. to 1 p.m. for afternoon lunch, and 3 p.m. to 7 p.m. for happy hour. People really seem to enjoy taking in the view and relaxing with great food,"said Bev's employees.
Not only do customers get a magazine-worthy scene to enjoy, but on Thursday nights, you will find live jazz swingin' on the patio. There's nothing like kicking back with a good drink and groovy tunes at this Siouxland restaurant. The outdoor space is also available for private parties and events.
Minerva's Restaurant and Bar
If you feel like something a bit more low-key, try Minerva's (pictured below). This restaurant and bar has a reputation in Siouxland for great food and service. Once summer hits, it's not uncommon to see the patio filled with folks enjoying the warm days and cool nights. Featuring a fire pit, ample seating, and a portable bar, Minerva's keeps customers comfortable throughout the lunch and evening hours.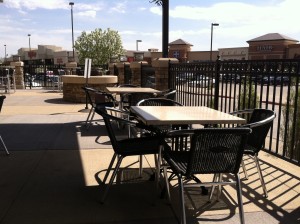 "We are beginning to re-vamp the patio, for sure," said bar manager, Mallory. "We rent out the space for receptions, parties, and graduations, as well as special events like Bike SUX. We also may be bringing back open mic night and live music this summer."
The space has a lot to offer with electronic drop-down shades that not only block out heat, but also allow for extra privacy and noise reduction. Competitive drink prices can be found during Happy Hour throughout the week. If you're looking for low-key, quiet, and relaxing, Minerva's could be your new summer spot.
The Firehouse Bar
Perhaps you're more in the mood for a night on the town. If so, The Firehouse (at right) in downtown Sioux City boasts a unique element: the outdoor space is as large, if not larger, than the indoor bar. This offers an easy flow for customers who want a little change-up throughout the night. There's no need to move to another bar, just move out to the patio and ta-da!–welcome to a brand new atmosphere! Stocked with a sound system, ample seating, full service outdoor bar, fire pits, and even a grill, The Firehouse provides the necessities for a great night out. On Saturdays, local bands take over the space offering up live entertainment. So where's the catch? A customer might think: there has to be a cover, right?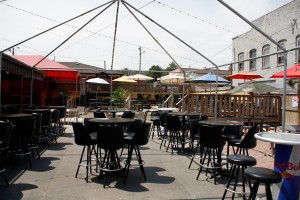 Nope.
"There is never a cover, ever," said owner Pauly. Not having to throw up a few dollars at the door is a surprising feature considering everything the bar offers. Firehouse runs on consistency and honesty, allowing customers to know what to expect when they come through the front door. Pricing is usually pretty stable, but if you're looking for discounted drinks, stop by during happy hour. It runs from 2:30 p.m. to 7:00 p.m. every day.
An additional feature that makes the Firehouse stand out is the fact that the bar offers free overnight parking in the back lot. This opportunity cuts down on reckless driving, while promoting safety and responsibility. The crowd is eclectic, but expect high energy and loud music on weekends.
Chesterfield's Friday Night Social Club
If you are in search of a local spot, you better find yourself at Chesterfield's Friday Night Social Club during your tour of Sioux City. This bar is a local favorite, and rightfully so: the owner and employees are sensationally cool. Laid back and open, Chesterfield's caters to music and performance lovers. Live music is offered every weekend, open mic night takes over Wednesdays, and Comedy Night rings out the week on Thursdays. Karaoke is also offered on several occasions on both the indoor and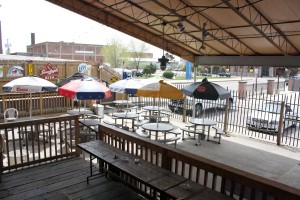 outdoor stages. That's right, Chesterfield's offers not one, but two venue stages. Whether you feel like kickin' it inside or outside, the bar offers up an exceptionally cool atmosphere.
The owner, Mick, runs his establishment with a sense of camaraderie, making customers feel at home and surrounded by great friends. This spot is definitely a top pick if you are looking for a laid back atmosphere to enjoy a good drink and great music.
Expect a small cover on weekends if a band is headlining. It's a minimal fee considering drink prices are always competitive and the musical talent is top-notch.Simply put, you can count on Chesterfield's to deliver a great night, every night.
Blue Ribbon Tap
If you're looking for something new, check out the Blue Ribbon Tap on Pearl street. Featuring a fully stocked indoor and outdoor bar, Blue Ribbon Tap is another addition to the ever-growing area of downtown Pearl. You won't expect anything short of extraordinary here, as this laid-back spot is run by great people who are believe in creating a relaxing atmosphere for customers. This bar is still new enough to be considered a hidden gem, so don't miss the opportunity of experiencing such a fantastic outdoor space. —Photos By Ian Medeiros
There are countless patios to enjoy around Siouxland. The best way to find your favorite is to explore the area personally.
Sioux City Patios
Here are just a few to consider on your journey this Summer:
Bev's: 1110 Larsen Park Road
Bottoms Up Patio Bar: 3828 Stadium Drive
Soho Kitchen and Bar: 4th and Ct
Minervas: 2945 Hamilton Blvd
Firehouse: 1211 5th St
Chesterfields: 1225 4th St
Tom Foolery's: 1008 4th St
Buffalo Alice's: 1022 4th St
Famous Dave's: 201 Pierce St
Kahill's: 385 E 4th St S. Sioux City
Mac Behrs: 1201 4th St
Ickey Nickel: 4700 41st St