Comedy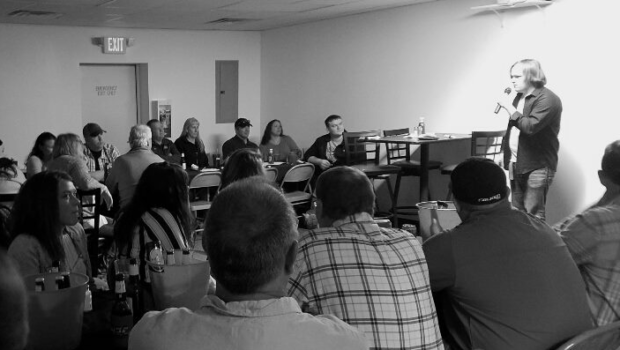 Published on March 11th, 2017 | by Thomas Ritchie
0
Local comic wants to bring the laughs back to town
Garie Lewis to headline comedy night
Sioux Cityian Britton Hacke loves comedy. He's been organizing comedy nights for some time now, and Saturday is hosting a show featuring Garie Lewis, Sioux City native and national comedian at the Galaxie Grill and Events Center, 1951 Leech Ave. He'd like to make the comedy nights a regular thing. Four other comics – including Hacke, Drake Strong, Josh Beckwith, Matt Hattorf – will open the show. This is Lewis's first comedy set in Sioux City in a number of years. Cost is $7 at the door. Here's a Q&A with Hacke this week.
You're organizing comedy nights in Siouxland. What inspired you to do this?
Well, not much was happening comedy wise here in town. When I was younger, Sioux City seemed to have a good comedy scene, El Fredos was the place to be on Friday and Saturday nights. I'd like to help bring that back, even if it's just in a small way.
Why do you think that standup comedy events are still relevant?
It's been said comedy is the best medicine. I look around and everyone seems so stressed out. It's a great release. The cool thing is comedians all have their own unique view of their world. Sometimes it's a serious subject made lighter, sometimes it's just plain silliness. We get to say things other people are just thinking, or point out weird stuff maybe the audience hasn't thought of. It's almost therapeutic for us and the audience.
What sort of things resonate most with audiences?
The stuff that I've found hits the best is real life. Parenting, your own parents, your significant other, work, friends. People seem to like it when they can say, "yeah that's me too" or "my kids do that."
What is your earliest comedy memory?
I would stay up well past bedtime and sneak out to the living room while my mom was sleeping to watch SNL, and Evening at The Improv.
How did you start out doing comedy, and why?
I always thought growing up that comedy is what I would do. I've always kind of had a hard time turning it off and being too serious. Then life kinda got in the way and I forgot for many years. About two years ago I found out there was an open mic at the Chesterfield and I thought maybe I should give it a try. It took awhile before I actually did, another six months I think before I went.
Who is your biggest influence and why?
Well I'd like to say George Carlin because he was smart, and I tend to agree with a lot of what he said. But that would be giving myself way too much credit, I can't write like him. As a comedic voice and writer I think he transcended comedy and was more of an essay writer. If I had to pick someone my style more closely mirrors it would be Steven Wright or Zach Galifianakis. Again, I'm not saying I'm as funny, but they both have a pretty silly one liner style that I like.
Tell me why I should attend this weekend's event.
Because Garie Freaking Lewis! He's returning to stand up comedy this weekend in Sioux City in a big way. We'll have four of Siouxlands most talented comedians opening the show. Then the very funny Garie Lewis will be headlining the show with a 45-min set. I guarantee it'll be the funniest part of your weekend.
What do you do when you're not doing comedy?
When I'm not doing comedy I'm spending time with my family. I have a wife who's been very supportive and two great kiddos who I draw inspiration from all the time.
Other upcoming shows
Galaxie Events Center – April 1 and 7, featuring out-of-town comics, and a magician on the 7th
Huddle in South Sioux City – April 8, featuring a Siouxlebrity Roast of Darin Foster
PHOTO: Drake Strong performs Saturday at Krause's Tap in Hinton before a sold out crowd of 50 people. Photo courtesy Britton Hacke.