Movie Reviews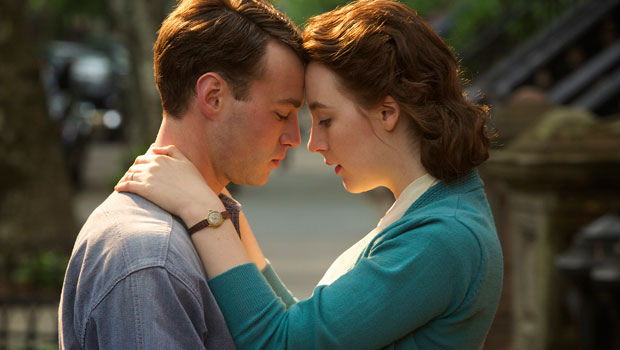 Published on December 10th, 2015 | by Leslie Erickson
0
5 films worth a road trip to Omaha
One of the drawbacks to being a cinephile in a small town like Sioux City is the unavailability of films with questionable high box-office appeal. While The Promenade downtown makes an attempt to bring in some less-blockbusterish films, economics simply restricts its ability to offer many independent films, critically acclaimed or not. This handicaps a person's ability to see some really great films, unless one is willing to drive down I-29 to Omaha's large multi-plex theaters or Filmstreams, its independent downtown theater.
So this week, we're going to take a virtual road trip as I review five very good films, all of which, but one, are only showing in Omaha right now.
#1: Brooklyn
Brooklyn, the one film I'm going to look at that we do have here in Sioux City, is a quiet, beautiful film about a young woman emigrating from Ireland to the U.S., specifically Brooklyn, NY, in the 1950s. Adapted by Nick Hornby from the novel by Colm Toibin, the film is a vehicle for little-known talent – there are no big names here. It's directed by John Crowley and is visually engaging as the action follows the protagonist as she moves between Ireland and Brooklyn.
Saoirse Ronan shines as Eilis, and her journey, not only physically from Ireland to America but also emotionally from girl to woman, rings of authenticity. For her first major role, Ronan creates an unforgettable character, conveying the combination of strength and naiveté that Eilis embodies. Although there are good performances in the supporting characters, from her family to the women at her boarding house to her love interests, she carries the story and the film.
Catch Brooklyn at The Promenade: click here for showtimes.
---
#2: Room
Another film centered around a strong female character is Room. Sure to garner a nomination for best actress, Brie Larson's emotion-evoking performance in this film as a young woman kidnapped and held for seven years in a one-room prison convincingly moves her from her position as a supporting actor to that of lead. Jacob Tremblay, as 5-year-old Jack, the son her kidnapper fathers and who shares "room" with her, also turns in a convincing performance.
This film is also directed by a little-known director, Lenny Abrahamson. He manages the emotional state of the audience masterfully, balancing the horror of the situation with the love between the characters without drifting into sentimentality or melodrama. What could have been a one-dimensional film is multi-layered and moving, making it one of the better films of the year.
---
#3: Trumbo
Trumbo, Bryan Cranston's first big lead on the big screen, is also worth the effort to see. Cranston plays Dalton Trumbo, a prolific and acclaimed Hollywood screenwriter who was arrested, jailed, and blacklisted during the McCarthy hysteria of the 1950s. An unapologetic Communist, Cranston's Trumbo is not only a Hollywood personality, but an activist, a family man, and a friend.
Directed by Jay Roach, who has mostly directed comedies in the past, the film highlights the long shadow McCarthyism cast over Hollywood. With its champions in John Wayne and vicious gossip columnist Hedda Hopper, played by the wonderful Helen Mirren, the movement to oust any Communist sympathizers is relentless in destroying its victims. A large talented cast supports the primary players, and ornate sets evoke Cold War Hollywood of the 1950s, transporting the audience back to a glittering dark time in our nation's history.
---
#4: Spotlight
Although not as far back as the 50s, Spotlight also transports its audience back to a dark time in history, but this time it's the history of the Catholic Church. The Church's cover-up of priests who molested children in now common knowledge, but before the Boston Globe's investigative team rooted out and broke the story in 2001, it was a well-guarded open secret of the church and city leaders.
The film's strong ensemble cast, including Mark Ruffalo, Michael Keaton, Rachel McAdams, Liev Schreiber, and Stanley Tucci, has not a weak link, and the actors share the burden of protagonist. A dicey proposition for any director, Tom McCarthy orchestrates the ensemble well, and not one performance overshadows another.  An important story and an emotional one, the film neither plays the evil vs. good card nor the blame game; it sets the story out there, allowing the audience to come to the inevitable judgment on these priests and the organization that hid their heinous acts.
---
#5: Chi-Raq
The final film I'm recommending today also examines a horrific situation, but it does so through satire mixed with hard data and comedy mixed with dramatic delivery. Spike Lee's hot mess of a film, Chi-Raq, is anything but typical. Based on the Greek drama Lysistrata, the film is set in the south side of Chicago where more Americans have been killed in the last 15 years than have been in Iraq or Afganistan. The women of Chi-Raq, as the gangs have renamed that part of the city, led by the amazing Teyonah Paris as Lysistrata, decide to withhold sex from their men until the gang violence and killing stops.
The film is anything but cohesive or comfortable. Samuel L. Jackson serves as a one-man Greek chorus, narrating and commenting on the action, and the dialogue is written in verse, much of it rhyming. Wesley Snipes and Nick Cannon, as warring gang leaders, and Angela Bassett as Miss Helen and John Cusack as Father Mike Corridan, round out a familiar cast. While the film is all over the place, it has lingered with me days after watching it. Insulated from the war zone that is South Side Chicago, I was shocked to become aware of and consider the reasons for the regular mass-murder of our fellow citizens regularly occurring.
---
The variety of subjects, style, and tone of these films is matched with a consistency of quality, so although you have to drive an hour or so to see them, making the trip is well worth it.