Live Music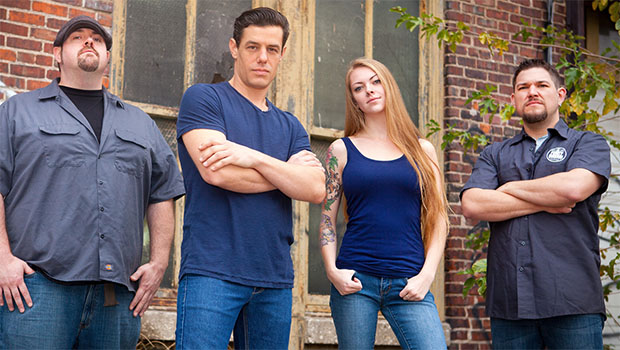 Published on February 12th, 2016 | by Sioux City Now
0
Nick Schnebelen stretches out and gets down with his own band
The Nick Schnebelen Band is performing at The Chesterfield this week, and we had a chance to chat with Nick himself about his musical influences, being on the road, and what sets his band apart.
Read our interview and be sure to catch the show, Friday, February 12th at 9 p.m.
You've been at the center of a lot of bands. What sets your current band apart from other groups you've performed with?
My current group has a lot more of a Roots and Americana feel. With Heather Newman partnering with me on vocals, her smooth style really offsets my rougher voice. I am always challenging myself, but now that it's my band, I feel more pressure to deliver vocally. I've been stretching into a lot more rocky material and also getting more down to earth with the feels and grooves. This band is really fun to get down on. I've been focusing on songs, feels and grooves people can dance to and have a great time. As always, I have been putting a lot of high-energy guitar solos into by shows – I can stretch out more in my own band.
Bands today seem to have to do a lot of self promotion with social, video and web channels just to make a name for themselves. How have you tried to do this and remain focused on making great music?
Working in the music business today really requires a lot of focus on social media. It's really hard to keep up with everything and maintain a social presence online, but it always is a huge pay off and it's great to connect with fans on a much more personal basis. We are connected every way possible and work hard to maintain our communication with our fans.
What influences you as an artist – musical or otherwise?
Lately I've been influenced by classical music, as well as a lot of music I have not known about that I'm getting exposed to through the new musicians in my band. I always go back to the three kings – Albert King, BB King, Freddie King, as well as any old blues songs I can find! The past five or more years I've been really interested in first wave blues from the early teens to the 30's.
You are on the road often. What has touring taught you about being a musician?
I've been touring for a long time so its always an interesting game about what will come up next. When you're on the road you have to expect anything at anytime! It's important to make sure you have all of your ducks in a row when you are traveling to make it easier on you and everyone else in the moment. And it still is an adventure getting to see new places, meet new people and hang out in new scenes all over the world!
Your family band Trampled Under Foot won some pretty high acclaim. What made you decide to leave your siblings and move on with your own band?
We played together for a long time and it was time for all of us to move on to new projects. Life is about growth, meeting new people and making new friends. And having fun while you're doing it. Having my own band has allowed me to expand on my personal goals as a musician as well as helped me to peruse greater aspirations alongside other musicians who share my drive.
Tell me what makes the blues great?
The blues has and always will be one of the closest styles of music to the human soul. It's beautiful and great as well as ugly and dark. It's a perfect balance of straight and swung pulses as well as amazing balance of rhythm and melody. Blues is great because it speaks from the truth of the heart!
What's your favorite road food?
My favorite road food lately has been pork rinds! Please don't make a steady diet of them, but they really taste good!
---
Nick Schnebelen Band members
Nick Schnebelen – guitar and vocals
Nick Schnebelen is a Kansas City, MO native. He's lived around the country play music and is taking on many different styles of music into his blues. Nick will always bring energetic, upbeat vibe to the show!
Heather Newman – guitar and vocals
Heather Newman is a Omaha Nebraska native. She has been in Kansas City for a year now performing in the Nick Schnebelen band. She has honed her style performing as a singer songwriter for many years. Now she brings her talent to the Nick Schnebelen Band.
Cliff Moore – Bass
Cliff Moore hails from the Columbia, Missouri area. He has been in Kansas City for several years now and has toured with some amazing blues musicians such as Michael Burks, Brother Bagman, and many others!
Joe Voye – drums
Joe Voye has been performing his whole life. Joe has toured with many great blues musicians and recently toured as drummer for Albert Castiglia.