Pets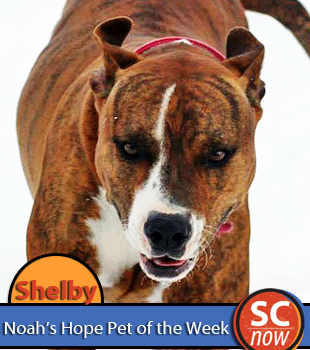 Published on March 4th, 2014 | by Sioux City Now
0
Pet of the Week – Shelby
Pet of the Week – Shelby
Shelby was adopted as a pup from Noah's Hope. When her military family was deployed overseas, they had to make that painful decision to give her up. They called Noah's Hope, and we took her back – which is standard operating procedure for the rescue.
Shelby is a young boxer/lab mix with a beautiful brindle coat. She's a high-energy girl and needs plenty of exercise. She is in a foster home now where she gets to run, and she is doing great. She loves people and playing with other dogs. We need to find a home for her where she can continue to be her energetic, athletic self. Like Zoey (last week's featured pet), she would do best in a home with a runner or a bunch of active teenagers.
Shelby is house trained, spayed, fully vetted, and ready to come home with you. If you want to adopt this gorgeous dog, please call Deanna at 712-253-8394. Or visit our Facebook page or website for more information:
https://www.facebook.com/NoahsHopeAnimalRescue
www.noahshomeanimalrescue.com
Noah's Hope Animal Rescue is an all-volunteer, 501(c)3 nonprofit corporation. We rescue the underdogs: the old, the sick and injured, the used-up by breeders, the forsaken and misunderstood. We nurse them, bring them back from the brink, and give them another chance. We believe they make the very best pets because somehow, they understand and are grateful. 
Photo by Deanna Mitchell Leach