Pets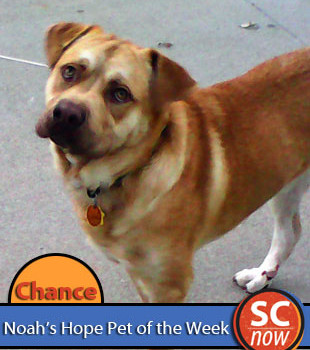 Published on October 15th, 2014 | by Sioux City Now
0
Pet of the Week – Chance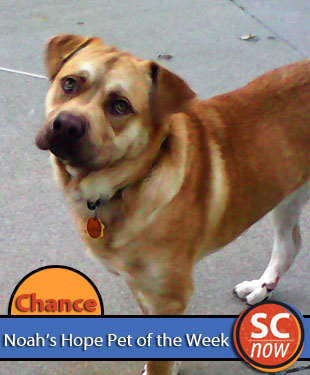 Chance, a 16 month old yellow lab mix, deserves a second chance. He was tied up in a yard and abused by neighborhood children who threw rocks at him and hit him with sticks. He was so shut down when he arrived at Noah's Hope that he would not stand up. We had to carry him around (no easy task with a 55 pound dog).
All that is behind him now. Chance quickly became socialized and now wants to play with the other dogs in his foster home. When he plays, he's clumsy like a big pup. He went to a Petsmart adoption event and was a perfect gentleman there, so we think he will be good with new dogs with a proper introduction. He loves to be petted. We suspect Chance is not cat friendly.
Here are some other things his foster family has reported about Chance:
"Chance does not shed. He has never had an accident in the house. We have a secure fence and he has never tried to get out. Walks well on a leash unless he sees a rabbit. I put a very long clothesline on his leash when I walk him and my dogs on the dike above the Floyd behind the Icky Nickel because I am afraid he would not come back when called. He will come to you when called in the yard. I am afraid he would be rough when playing with smaller dogs. I have watched him play with two larger female dogs and he played well. He is very content now that he is in a safe foster home. He likes to push his head into your body, seeking comfort and saying thank you for loving me. He also uses his teeth in an affectionate way when kissing with that big mug! So far he is only allowed in the den because we have a cat. He obeys that rule. He is not food or toy aggressive with people. Of course, we feed him separately from our dogs since he had to fend for himself before we got him. He sleeps on our leather couch with his blanket. He is a very happy, grateful boy! He so deserves a loving forever home. "
Yours? Chance has been neutered, has all his shots, and is ready to go home. His adoption fee is $135. If you want to give this sweet boy another chance for a great life, please call Deanna at 712-253-8394. Or visit our Facebook page or website for more information:
https://www.facebook.com/NoahsHopeAnimalRescue
Noah's Hope Animal Rescue is an all-volunteer, 501(c)3 nonprofit corporation. We rescue the underdogs: the old, the sick and injured, the used-up by breeders, the forsaken and misunderstood. We nurse them, bring them back from the brink, and give them another chance. We believe they make the very best pets because somehow, they understand and are grateful.