Pets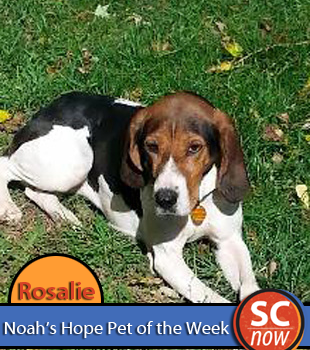 Published on November 6th, 2014 | by Malory Vandenberg
0
Pet of the Week – Rosalie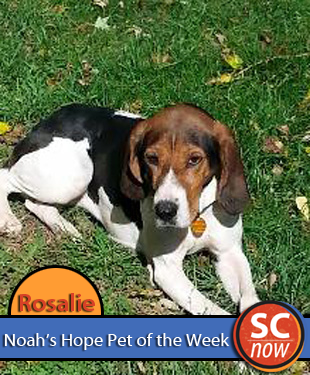 Rosalie is a 4-year-old Tree Walker Coonhound. She came to Noah's Hope as a stray and was severely underweight and very unsure of life. With lots of love from her foster family, she has blossomed into a beautiful, well-adjusted gal.
She is very good with all dogs, but should be supervised with very little dogs because of her size. She has not been tested with cats. She loves to run and play in the yard, but in the house she is calm and … well, almost lazy!
Given her past, it is no surprise that she came to us not house-trained, but she is doing remarkably well with that. She does have a deep (hound) bark and will let you hear it when a squirrel is lingering in a tree, yet in the house she does not bark at all.
Rosalie is spayed, vaccinated and micro chipped. Her adoption fee is $135.
Rosalie has gained weight and is in good health now. She is spayed, micro-chipped, and up-to-date on all of her vaccinations. Her adoption fee is $135. If you can open your home to this special dog, please call Deanna at 712-253-8394. Or visit our Facebook page or website for more information:
https://www.facebook.com/NoahsHopeAnimalRescue
Noah's Hope Animal Rescue is an all-volunteer, 501(c)3 nonprofit corporation. We rescue the underdogs: the old, the sick and injured, the used-up by breeders, the forsaken and misunderstood. We nurse them, bring them back from the brink, and give them another chance. We believe they make the very best pets because somehow, they understand and are grateful.