Movie Reviews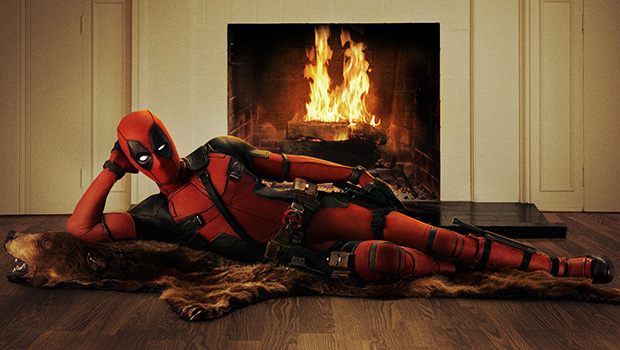 Published on February 19th, 2016 | by Leslie Erickson
0
'Deadpool' lets us in on the joke — and it's hilarious
"You're probably thinking 'This is a superhero movie, but that guy in the suit just turned that other guy into a f****g kebab.' Surprise, this is a different kind of superhero story."

– Deadpool
Deadpool
Director: Tim Miller
Writers: Rhett Reese, Paul Wernick (screenplay); Fabian Nicieza, Rob Liefeld (character)
Stars:  Ryan Reynolds, Morena Baccarin, T.J. Miller, Ed Skrein, Stefan Kapicic, Brianna Hildebrand, Leslie Uggams
IMDB Link:  http://www.imdb.com/title/tt1431045/?ref_=nv_sr_1
★★★★
Click here to listen to Leslie's review of Deadpool on KWIT!
To say that comic book Superhero movies are popular right now is about as much of an understatement as pointing out that birds like to perch in trees. And just as some birdwatchers can identify varieties of related species, some Marvel and DC fans can tell you which characters are from what world, what their backstories are, and how they are or are not connected. But for most of us, what distinguishes a comic book character or film is if it's original, fresh, and entertaining. A few years ago, Guardians of the Galaxy was that film. This year, it's Marvel's latest venture, Deadpool. With a foul-mouthed, sarcastic, irreverent anti-hero at its center – you most certainly wouldn't want to take little Timmy to see it – the film is engaging, captivating, and laugh-out-loud funny.
Part of what makes Deadpool so watchable is that humor. While so many of these films rely on over-the-top action and special effects – and there's certainly no shortage of those things in Deadpool – director Tim Miller makes them the background rather than the foreground of the film. In Miller's big-picture debut, he nails the landing by always focusing the attention on his character and his acerbic wit. That wit is often used to nudge the audience with a wink as the title character predicts or comments on familiar tropes and clichéd lines, often breaking the fourth wall to do so. The lack of tired out, clichéd lines – unless making them the butt of the joke we're all in on – keeps the audience looking forward to the next line rather than the next special effect.
Writers Rhett Reese and Paul Wernick, also with fairly short resumes, drip the right amount of sarcasm off the tongue of their title character. While Deadpool's vocabulary includes a large smattering of swear words, those explicatives never feel gratuitous and reflect perfectly his state of mind and personality. This creates a character who is believably multi-faceted; Deadpool's authenticity also stems in part from an unsentimental but warm backstory as the writers avoiding creating just another one-dimensional stereotypical comic-book hero.
Ryan Reynolds, who has played a few other comic book characters in these always big-budget, action-filled films, does a perfect job with this original character. Just as Chris Pratt was the perfect actor to deliver Peter Quill/Star-Lord's lines in Guardians of the Galaxy, Reynolds is flawless as Wade Wilson/Deadpool. He creates just the right mix of sarcasm, seriousness, and warmth, and we never doubt his sincerity, unless, of course, we're in on the joke. Every time he nuances his lines by cocking his head or overtly gesturing with his hands, the audience is drawn in that much more. Part of our complete seduction is those nuances, part is the way he engages our complicity through those fourth-wall breaks, and part of it is the simple charm he exudes in the few moments of humanity we see in both the backstory scenes and when Deadpool is in full-blown killing mode.
And there is a lot of killing in the film. The graphic violence is another element of this film that sets it apart from so many of its predecessors. While almost all of these comic book action films are, in fact, very violent, the blood and gore consequences of that violence is ignored and our attention is never drawn to its real cost. With and wink and a nod, Deadpool acknowledges that in an early scene in the film as the camera points the audience's attention to a dead innocent bystander falling from a highway sign. And while we might have to avert our eyes a few times because of the explicity, its honesty endears us just a little more to the character and the film.
Definitely not for children, Deadpool's graphic violence, the explicit language, and its hilarious self-awareness come together to create a real adult comic book hero action film. And the end result is that Ryan Reynolds and his costars pull off a feat worthy of a real super hero: creating characters and a film in a clichéd, overproduced genre that is memorable, entertaining, and original.
Deadpool is now playing at the Promenade. Check showtimes here.
Watch the official trailer below: