Movie Reviews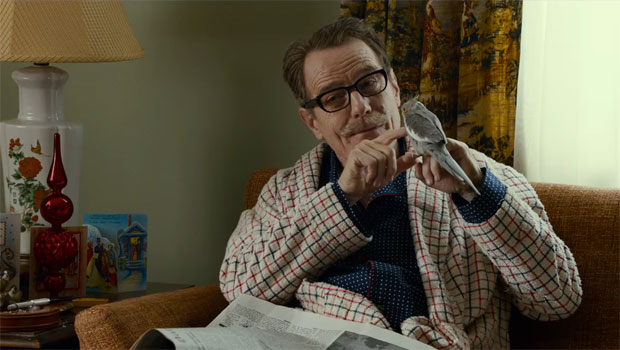 Published on January 29th, 2016 | by Leslie Erickson
0
'Trumbo' tackles injustice, hysteria surrounding blind fear
"Friends? What friends? Who the hell has the luxury of friends? I've got allies and enemies. There's no room for anything else."
– Dalton Trumbo
Trumbo
Director: Jay Roach
Writers:  John McNamara (screenplay); Bruce Cook (book)
Stars: Bryan Cranston, Diane Lane, Helen Mirren
IMDB Link: 
★★★★1/2
You can now listen to this review on KWIT, or scroll down to continue reading.
"Are you now, or have you ever been, a member of the Communist party?" These words were familiar and frightening to many Americans in the 1950s, but they were frightening for different reasons. The cold war with the Soviet Union was in full bloom, and people were frightened of an enemy they imagined lurked in their fellow citizens. Unlike the "war on terrorism" we are living with now, where so many who are filled with fear suspect enemies in our Middle Eastern- or Muslim- appearing neighbors, the fear of communism had no ethnic group on which to place its hysteria and hatred. Hollywood in the 50s was a hotbed for this hysteria, and it is common knowledge that many actors, writers, and filmmakers lost reputations, careers, and credibility as a result of it. The film Trumbo tackles the injustice and hysteria surrounding these fears.
The film centers around Dalton Trumbo, a prolific and acclaimed Hollywood screenwriter who was arrested, jailed, and blacklisted at the height of his career. Bryan Cranston, in his first big lead on the silver screen, plays Trumbo and his performance is excellent, justifiably earning him a best actor nomination at this year's Oscars. An unapologetic card-carrying member of the Communist party, Cranston's Trumbo is not only a Hollywood personality, but an activist, a family man, and a friend. Cranston's ability to convey Trumbo's humanity as he balances trying to maintain a career in a world intent on keeping him from doing just that with loving his wife and parenting his children is what sets this film and his performance apart. The heartbreak incurred at the treatment he receives from the government and his colleagues in the film business is palpable, and Cranston conveys the undeniable extent of the emotional toll it levies.
Although Senator Joseph McCarthy and his House Un-American Activities Committee, along with his true believers, are the obvious antagonists in this film, Director Jay Roach chooses to use two Hollywood personalities to illustrate the phobia and viciousness of the anti-Communist movement – actor John Wayne and gossip columnist Hedda Hopper. Roach, who has mostly directed comedies in the past, conveys the long shadow McCarthyism cast over Hollywood through these two characters.
Because of the familiarity of Wayne in the American consciousness, it is a little difficult to suspend our disbelief when he is on screen, but Helen Mirren as Hedda Hopper is deliciously vicious and convincing as the woman whose agenda was to stamp out Communism in Hollywood and happily destroy anyone she suspected of being a Communist. In what is one of the best supporting performances of the year, she earned a supporting actor nomination at the Golden Globes and should have at the Oscars.
A talented cast supports the primary players, and many well- and lesser known Hollywood personalities are represented in the film – those who also suffer ostracism and those who sell-out their friends and colleagues to avoid persecution. Trumbo's family also figures prominently. With Diane Lane at the helm as his supportive and loyal wife, much of the film centers on the sacrifices demanded of and the toll his treatment takes on his family.
The film's appeal is not just because of strong performances and a compelling story; it's a beautiful film to watch. The film transports the audience back to a glittering dark time in our nation's history as the action plays out on ornate sets that evoke Cold War Hollywood of the 1950s. The irony created as the beauty and splendor of these golden days of Hollywood is juxtaposed with the ugliness of its happenings creates a subtle tension that accompanies the battle the film's title character faces.
Trumbo, while being a wonderful film that is entertaining to watch, well acted, and well-crafted, is something else: it's a cautionary tale that conveys the price blind fear and xenophobia, when politicized and institutionalized, can have on a country's citizens.
Trumbo is playing for a limited time at the Promenade. Click here for showtimes.
Watch the official trailer below:

---