Live Music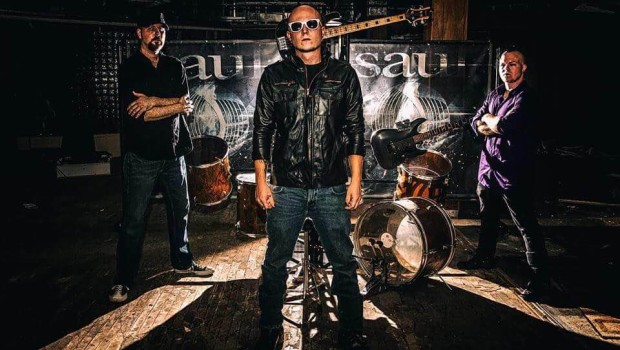 Published on December 18th, 2015 | by Thomas Ritchie
0
Sioux City alt-metal band Saul inspired by surf guitar icon Dick Dale
If you've never heard of the Sioux City area band called Saul, you likely will soon. The band, which has received heavy acclaim and radio play in the past year, has touted some impressive gigs. They've been touring regularly promoting new material, and stop Saturday night at the Chesterfield in Sioux City.
We caught up with Blake Bedsaul, who handles bass and vocals for the three-man band, to talk about inspirations, their new music and what's ahead.
Question: Tell me about your first musical memory, and how it influenced you.
Answer: It's not my first memory but it was very early in my musical life. I was 16 years old when an older friend took my brother Zach and I to see the surf guitar legend Dick Dale in Iowa City at Gabe's Oasis. The show was great, exactly how I imagined it was going to be. But it was after the show that made the biggest impact. My friend introduced us to the guitar legend and told him that we were very passionate about music. Well, Dick Dale sat us down on the edge of the stage with him and was telling us stories of the good ol' days. One thing that will stick with me is he said "Life will beat you down and people will try to take advantage of you and your music. You have to be the bull, put your horns down and muscle your way through." That's the approach we still take for touring and releasing new music.
Q: You dive into an emotional pool that seems to keep on giving in your songs. Tell me where your inspiration comes from, and how you channel that into your music.
A: We gather our songs from everyday and major life events. I guess we don't know any other way to do it. Sometimes it can be hard to really get the vibe translated into music but we all collectively hash it out. Repetition of playing the idea over and over then changing it as it starts to grow and take on it's own life.
Q: You've performed with some big names in the music world. Who do you look up to as a musician?
A: We have been lucky enough to play with some of our major inspirations. Such as 10 Years and Taproot. We are influenced by bands like Tool, Nothing More, Teseract, Led Zeppelin and oddly enough, Modest Mouse.
Q: In a world where musical genres are becoming increasingly splintered, how do you describe your music?
A: We run with the label as Progressive/Alt/Metal. But we truly just try to sound like Saul. We are inspired by literally everything from a basic conversation that leads to lyrics, to major life events that set the tone for a track or EP. Our music is a hard thing to describe being the creator. It's just natural and it is Saul.
Q: Tell me about your most recent release.
A: BOLIDE is our most recent single. It's a hard hitting song. High tempo and powerful. We released it in October of 2015 and have had some major AirPlay for it already. Dive into the lyrics and I'm sure you will see yourself in it.
Watch the BOLIDE video below.