Community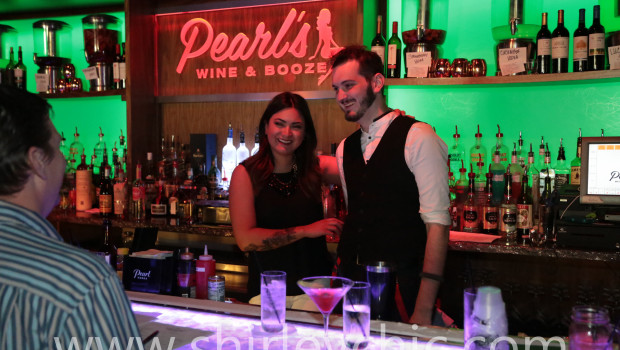 Published on August 1st, 2015 | by Dylan Myers
0
Cocktail makers compete for local title
This week, Pearls Wine and Booze hosted the regional mixology contest put on by the Iowa Restaurant Association, and the event was both entertaining and delicious.
Three Sioux City bartenders put their craft to the test, but only one would move on to the finals in Des Moines at the Americana Restaurant and Lounge. That's where Iowa's top mixologist will be crowned and where three qualified judges will likely need a ride home.
Let me paint the picture: It's 6:30 in the evening at Pearls, 417 Pearl St., and everyone has a drink in hand as the competition is about to start. A crowd anxiously begins to form around the wooden bar where the judges sit talking amongst themselves, their scoresheets in hand.
PHOTOS: See a photo gallery from the event. 
"I've never been to a mixology competition before so I have no idea what to expect. I hope you're allowed to cheer because Rosco needs support," said Blake Speckman, an audience member.
Mike Rosco was a last minute walk-on contestant, originally there just to spectate with Speckman, but he thought the competition looked fun so he decided to give it a go.
It was free to enter and anyone over 21 could compete.
By no means is this the sort of competition you just jump into. Rosco lacked a uniform, and had a shaky game plan. But his eight months of bartending at the Olive Garden gave him the confidence he needed to compete.
"No matter what happens at least I can say I got third place at regionals," said Rosco. chuckling.
Each contestant is given 15 minutes to create three drinks using any ingredients they desire. The catch is that each cocktail must contain a small amount of liquor from one of three designated spirits.
The first drink made has to incorporate Pear Strawberry Basil Vodka or Pearl Black Vodka. The second drink has to use Basil Hayden Bourbon and the third drink had to use Herbsaint.
Tim Nelson, a bartender from Firehouse is first up. He introduces himself to the judges and then begins breaking down the recipe of his drink step by step as he adds ingredients to the glass. Nelson's describing to the judges why he's adding certain ingredients or why he's mixing a drink in a particular way.
Nelson's directions are detailed. Every step is crucial and each drop of liquor has its place. He wants each drink to be prepared perfectly.
"And now I'll top it off with a little bit of Sprite. The reason I don't shake the drink with the Sprite already in it is because it'll block out that carbonation taste," said Nelson as he finishes up his final cocktail.
After each drink is complete, the judges take a couple sips, jot down notes and score each of the specialties.
All the drinks and contestants are judged on their creativity, presentation, and, of course taste.
Rosco, the last minute entry, was up second.
"I'm getting nervous. I hope he's got something up his sleeve," said Speckman. Rosco inform the staff that they don't carry the banana flavored liquor he's seeking.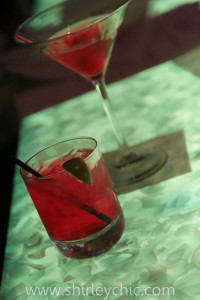 He quickly rethinks his strategy just as the 15-minute countdown begins. "Hi, my name's Rosco and I found out about this competition a couple minutes ago and thought hey… lets see what happens."
The judges crack a smile and begin taking notes.
Rosco didn't quite break down his drinks in detail as Nelson and the other contestants did, but that didn't stop him from coming off like a mixology magician, winging his every move.
Everybody at the bar was loving his first time performance, and his drinks actually didn't turn out half bad. My favorite was his first drink which he completed without a name. At the last minute, he said, "Let me think, how about, Chocolate Strawberry Bliss!"
The last contestant to compete was Cody Habhab and his assistant Kristian Smith, who were both former bartenders at Pearl. Each contestant is allowed one assistant to help them prepare their drinks.
"We work well together because we like to bounce around ideas and ever since the beginning we just clicked," said Kristian as Cody tops off a drink with a freshly squeezed lemonade they brought in just for this event.
After they finished their drinks, their was short intermission as the judges concurred and scoresheets were tallied.
Tim Nelson finished as runner up while Cody and Kristian won the event. The pair will move on to the finals Aug. 24 in Des Moines.
After the competition I caught up with Cody and Kristian to ask them about their backstory.
"I started bartending at Luciano's, learning how to make martinis," said Cody
"Mastering martinis is the first step in making cocktails."
"I've competed once before by myself in Cedar Falls, but this is the first year Christian and I are working together," said Cody.
Cody and Kristian had great chemistry behind the bar, and their experience showed. They were fully prepared for this competition and each drink they crafted was delicious.
They were both excited and eager to represent Sioux City in Des Moines, and hopefully bring back the trophy for Iowa's best mixologist.
If you were wondering, Rosco did end up finishing third place at regionals.