Movie Reviews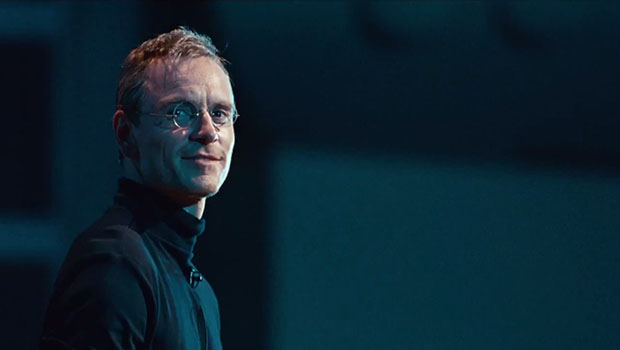 Published on October 29th, 2015 | by Leslie Erickson
0
'Steve Jobs' displays trifecta of cinematic excellence
"Musicians play their instruments. I play the orchestra." – Steve Jobs
Steve Jobs
Director: Danny Boyle
Writer: Aaron Sorkin (screenplay), Walter Isaacson (book)
Stars: Michael Fassbender, Kate Winslet, Seth Rogan, Jeff Daniels
IMDB Link: http://www.imdb.com/title/tt2080374/?ref_=nv_sr_1
★★★★ 1/2
You can now listen to an audio recording of this review, or scroll down to keep reading: 
Steve Jobs, Apple co-founder, chairman, and CEO, was an enigma when he was alive and remains an intrigue to the American psyche after his death. Steve Jobs the film, the latest of three feature films and a best-selling biography chronicling the man's life and accomplishments, elicits no such ambiguity. It is a strong film with a fast-paced, intelligent script, captivating performances, and well-paced direction, making it a top contender for Oscar gold.
From all accounts, Jobs was a brilliant visionary who changed our world and a real jerk to those who knew him. He has defied easy categorization since he and Apple co-founder Steve Wozniak revolutionized the personal computer, so to write a film that captures the essence of his character would clearly be a challenge. Enter Aaron Sorkin. Arguably one of our best contemporary screenwriters, Sorkin is known for fast-paced, witty, and intelligent dialogue and captivating plot lines evidenced in films such as The Social Network, Moneyball, and A Few Good Men and the television series The West Wing and The Newsroom.
In this film, Sorkin's script neither demonizes nor canonizes his subject, instead creating a complex and fascinating character. Writing the film in three acts, one for each of three major Apple launches, Sorkin portrays not only the early evolution of Apple products but also the evolution of his protagonist. Each act is a microdrama featuring a mini history lesson on the product being launched and a character analysis of Jobs and his relationships. These three acts come together to create a complete portrait of an imperfect man. The story here, whether truly representative of Jobs and his life or not, is moving and emotional. With the glut of biopics this year, many of them plot-weak, Sorkin's script is an example of excellence.
Michael Fassbender performs Sorkin's fast-paced, witty dialogue flawlessly and disappears into the volatile Jobs completely. While he was the third choice for the role behind Leonardo DiCaprio and Christian Bale, it's hard to imagine anyone doing it better. Fassbender evokes a character we can both love and hate, just as Jobs was loved and hated by those who surrounded him, and we forget for these two hours that it's not the actual Jobs we're watching. His performance will surely put him in Oscar contention.
While Fassbender's performance is center stage for the entire film, the supporting actors also turn in good performances. Jeff Daniels as Apple exec John Scully and surrogate father-figure to Jobs, and Seth Rogan as Apple co-founder Steve Wozniak, deliver their lines convincingly, and Rogan's performance, while a little self-conscious, may be the best of his career. Kate Winslet, who is usually exceptional, falters a little as Jobs' right-hand woman, best friend, and confidant. She drifts in and out of a supposed Polish accent and hits some bumps in her performance, but the flaws in her performance are not enough to derail the film or the audience's immersion in the story.
Danny Boyle's direction completes the spell the film casts over its audience. The pacing and structure of the film engages us, beginning somewhat slowly and building to an intense climax as Jobs evolves professionally and emotionally through the product launches and in his personal relationships. Boyle is an accomplished director; his previous successes include the unlikely hits Slumdog Millionaire and 127 Hours. His innovation in filmmaking is evidenced in this film: he shoots each of the three acts, the three product launches, in a different format – 16mm, 35mm, and digital – to reflect changes in technology. Additionally, each act was shot in sequence with the actors having two weeks to rehearse followed by two weeks of shooting, creating a sense of immediacy to the production.
This trifecta of excellence – directing, writing, and acting – comes together to create one of the best films of the year. Whether or not Steve Jobs the character is authentically reflective of Steve Jobs the man becomes irrelevant as we are swept away in the story of one of capitalism's greatest successes. That the film makes Jobs also a success in his personal life is sure to be debated, but the success of the film is indisputable.
Steve Jobs is now playing at the Promenade Cinema. Click here for showtimes.
Watch the official trailer below:
—
Listen to Leslie read her reviews: Movies With Leslie on KWIT.