Community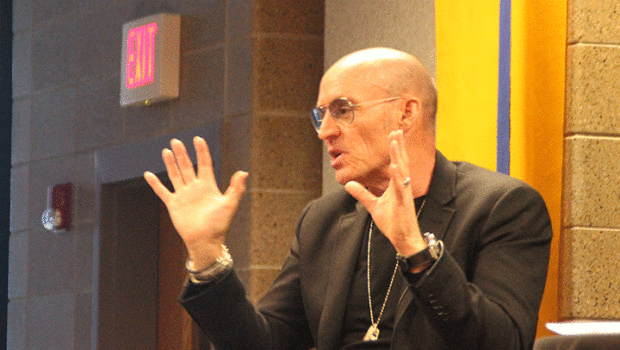 Published on February 17th, 2016 | by Thomas Ritchie
0
Ted Waitt talks startups, Sioux City and giving back
In one of his first public interviews here in years, Ted Waitt opened up to a roomful of students, former colleagues, friends and entrepreneurs Monday night.
In an interview moderated by former Sioux City mayor Jim Wharton, Waitt shared stories about the company he founded, the lean startup years and the great success and eventual demise of the company that brought black and white spots to the world.
Gateway 2000, the company Waitt co-founded in September 1985 with Mike Hammond, went on to become one of Sioux City area's largest employers, and one of the largest computer companies in the world.
"To have a guy from Sioux City who has a story like this to tell" is incredible, said Wharton, who worked for Waitt at Gateway for years. "This is an entrepreneur for our generation."
While Waitt, a North High School graduate, is considered Sioux City's most successful entrepreneur ever, there were some at Briar Cliff University to whom Waitt was an unknown.
"All the students out there who have never heard of Gateway, raise your hands," Wharton said, then pointed to hands raised high across the large conference room. Whether they knew him or not they were in for a treat.
Waitt told familiar stories, including about how no bank would give him a loan, so he turned to his grandmother for financial help starting his company. Her $15,000 CD was the collateral he needed to get a loan, but only for $10,000 because the banks all told him "you guys are nuts," Waitt said, the crowd laughing.
Little did they know what was in store for the small computer maker that was started in a house on Waitt's father's farm, on land that is now Whispering Creek.
They grew fast, moving to the Sioux City Stockyards, then to Sergeant Bluff and eventually to N. Sioux City as the PC business boomed in the early 1990s.
"The first few years were tough," Waitt said. "We were running out of money each day." He told the story of how he delivered checks to employees one week and telling them they had to wait until Monday to cash them. "We said 'you can take them to the bank, but they probably won't cash them.' But you can probably go cash them at the Crosstown Tavern," he said laughing.
For entrepreneurs and small business people in the audience, the event was a chance to see a local business icon in person and learn some valuable lessons about starting a business.
"I always advise people to start when they are young – they have no mortgage, no kids," he said. "There's more risk in not doing it than doing it."
He also told students to "Think big, refuse to fail, but keep moving forward. … If you know you are doing the right thing, just keep doing it. And always tell the truth."
Waitt shared stories about how he dropped out of college to start the company, and made decisions based on his Sioux City values of hard work and creativity. With no corporate experience, he said he led with his heart and surrounded himself with leaders who made the company great.
"We were a values based company. We tried to take the edge off companies (like IBM). We tried to sell our people first. To stand out we had the best people."
Waitt said that taking a non-traditional approach to business changed the marketplace. He said Gateway dropped prices lower than any competitors, sold computers direct to consumers and purchased components at the last minute to save money.
"We were so efficient. We were selling cheaper than our competitors (who were locked into contracts) were buying for," Waitt said. "We made our competitors mad."
But Waitt knew it was working. Of course, the legacy of his company was that it eventually grew to more than 6,000 employees in the Sioux City metro area.
His $2,000 all-inclusive PC system was a huge hit. In fact, much of the new product introductions at Gateway were big sales successes.
To say that Waitt and Hammond were in the right place at the right time in history would be an overstatement. "If I would have tried to create Gateway at any other time and place, it would not have been successful," he said.
Waitt, however, created something that truly challenged the norm for businesses at the time. "We didn't have any rules, we just made something up, we created it," he said. "We were too stupid to know any better." They spent extravagantly on advertising, they had big annual shareholder parties and they marched a cow into the New York Stock Exchange when the company was added to the index.
Waitt and his leadership knew how to have fun, and Waitt wanted the same for his employees. Much the way that startups today are focused on culture, Waitt perfected it decades ago.
"When bands would come through town, Ted would have some of them play outside the building," Wharton said as he shared Gateway commercials and pictures from the campus that still stands in N. Sioux City. "Ted brought a culture of fun. Here's a parade we held the day we painted the spots on the buildings."
At one point during the Q&A session, city councilwoman Rhonda Capron stood up and regaled the crowd with a story about how Waitt once rode a horse through her bar Rhonda's Speakeasy. "With a Budweiser in my hand," Waitt said.
Throughout the entire talk, Waitt routinely mentioned Sioux City and its people and their impact on the company's success. Midwest values were what made the company great, he said.
Unfortunately, for those who know Gateway's story, the company eventually fell victim to the need to move west as the tech boom of the '90s became a siren call for companies, many who flocked to California, and especially Silicon Valley.
Waitt felt the tug too, when a consultant recommended Gateway move their company headquarters to San Diego. "In hindsight, that was the worst big decision I ever made." He said that without the Sioux City and Midwestern values that made the company great, the company became overrun with egos and personalities who had no understanding of what he had built from a small farm in northwest Iowa.
The rest of the story is history, but what can never be forgotten is that Siouxland was home to one of the biggest tech companies that grew out of the dot com boom. Under Waitt's tutelage, many say, it never lost its heart.
Wharton went on to recognize Waitt's philanthropic work around the globe, which is extensive. It includes work with the National Geographic Society, the Waitt Foundation, Salk Institute for Biological Studies and many other organizations. Additionally, he mentioned films such as "The Bully Project," and the 2016 Sundance hit "Audrie and Daisy," which were produced in conjunction with the Waitt Institute for Violence Prevention, led by Waitt's sister Cindy Watt of Sioux City.
Waitt has become one of America's 50 most generous philanthropists, according to Business Week.
Additionally, he oversees the Avalon Capital Group, Inc., a wholly owned, billion-dollar private investment company with diverse interests in technology, health care, energy, finance, and real estate.
After his talk, Waitt signed autographs and took selfies for fans, and even accepted a few gifts from students and community members. His talk was presented as part of the Entrepalooza events happening on campus through next week.