Live Music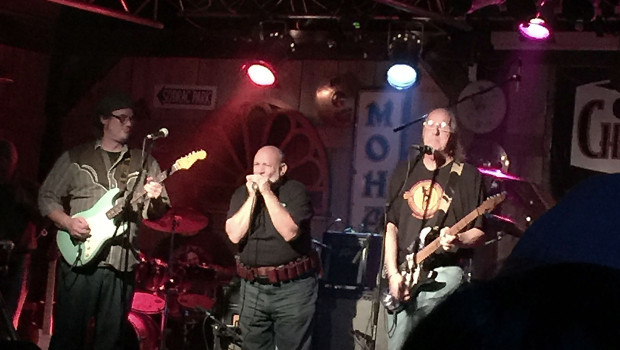 Published on December 9th, 2015 | by Sioux City Now
0
Tribute honors local music legend Tommy Bolin
By Pat Hubbard
Saturday night at The Chesterfield, there was no shortage of hardcore Tommy Bolin enthusiasts. But you didn't have to be a diehard fan to enjoy an evening of the "bow down to Tommy" musical extravaganza.
Old rockers (young at heart) turned out for an evening of music on the 39th anniversary of the day the Sioux City rocker died. Bolin, who would have been 64, died in Miami, on Dec. 4, 1976, at the age of 25.
Many of the musicians on hand had worked with or knew Bolin personally, and their passion for him and his music was lovingly apparent.
Johnnie Bolin opened the show with remarks about his brother. He thanked the audience, the musicians, and The Chesterfield for hosting the evening. Those in attendance seemed excited for an evening showcasing some of Siouxland's best musicians. Some came to the stage with high-fives for the musicians, while others gave similar appreciative gestures from their seats.
Dean Christopher and Bobby Berge (along with backup tracks) kicked off the party with songs from bands Bolin played in such as Zephyr, the James Gang, Energy, and The Tommy Bolin Band. Songs such as "Gypsy Soul," "Savannah Woman," and "Standing in the Rain," warmed up the crowd. They also played "Golden Rainbows," a song Tommy recorded with jazz artist Alphonse Mouzon.
The duo featured Bolins highly diversified musical talents – from rock and roll to fusion jazz. It was evident by the background chatter that many of the patrons enjoyed reminiscing about Bolin's legacy.
Taking the stage next was the Bolin Tribute Band featuring John Bartels and Jesse Christen on guitars; Billy Ryder, harmonica; Johnnie Bolin, drums; Terry Brooks, keys; David Napier, sax; Billy Engel, bongos; and others. They masterfully belted out Bolin songs such as "Teaser" and "Wild Dogs" as well as a few that Tommy would have loved like "Jesus Left Chicago" by ZZ Top and "Caledonia," (which featured Ryder). Bartels quipped after one song, "we like to play Tommy songs like we mean it."
It was an evening of celebrating and remembering the life of a hometown musical legend. The talented musicians who participated in the tribute masterfully captured the essence of Tommy's diversity and pure musical genius.
For more history and information about Tommy Bolin, visit his official website at www.tbolin.com.