Community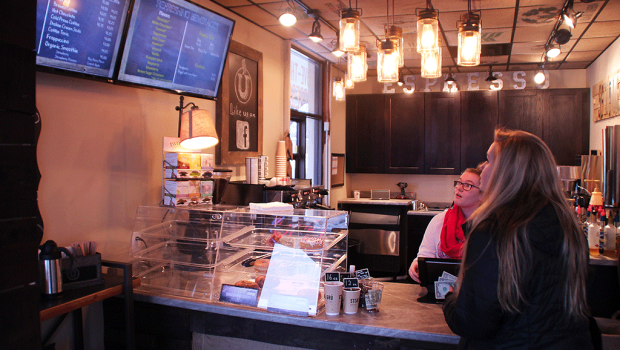 Published on January 11th, 2016 | by Ivy Sweet
0
Zen vibe, organic brew set Stone Bru apart
Stone Bru is not a typical coffee shop – it is truly an experience unlike any other in Sioux City.
From the laid back, soothing atmosphere to the satisfying taste of the caffeinated beverages, this new coffee haunt is an escape from the cold.
I walked into Stone Bru expecting another ordinary coffee shop. What I found instead was a quaint space filled with the aroma of freshly brewed organic coffee. Overhead, the sound of an indie band played as I soaked in the shop's Zen vibe.
Greeting me from behind the counter was Joseph, one of the closing managers. His pierced nose and lip and chill attitude made him fit right in with the atmosphere that Stone Bru wants to accomplish.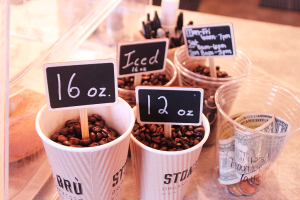 Friendly and easy to talk to, he invited me to pour my own half-and-half into my coffee to ensure that I had the perfect level of sweetness. Caring and patient, it was apparent that he's interested in each customer getting exactly what they want when they order.
I chose a 12 oz. brewed coffee – it was just $1.75 – and sat down in one of the metal chairs next to the window. They also offer donuts and bagels, but I'll leave that for next time.
Open since Dec. 17, Stone Bru is nearing its one month anniversary. Co-owner Brad Lepper says that his inspiration to open a coffee shop was born because his aunt had owned one when he was younger.
"I always thought it was an interesting business," he said. "And then we came across the opportunity to have this space here in this corner. All the pieces just fell into place to make it a buyable business."
Conveniently connected to the coffee shop is a laundromat, which has free wifi. I logged on while sipping my brew, enjoying the mild sweetness of it and finding the medium roast to be exactly to my liking.
Across from my table were two printed chairs placed on either side of a wooden table with a globe and a newspaper on top of it – a cozy reading spot perhaps for someone looking to relax while enjoying their drink.
On the wall above is the Stone Bru's logo – a circle around the letter 'U' with an accent mark made to look like a cup of coffee with a bit of steam coming out of it. Stone Bru also has a drive thru window for customers in a hurry who just need a quick cup.
Located at 4243 Gordon Dr. – on the corner of Gordon Drive and Stone Avenue – just down the hill from Western Iowa Tech Community College and not far from Morningside College, Stone Bru is a great place for students to get fueled up for finals or even just hang out.
Students are offered discount days through January – Morningside Mondays and WIT Wednesdays – where students at each respective college can get 50 percent discounts on beverages.
Stone Bru's location and student days might attract a younger crowd, but the organic brews are recommended to all. Lepper says that what sets Stone Bru apart from other coffee shops in town, besides the atmosphere, is the coffee itself.
"We serve all organic coffee," he says. "All our coffee is locally roasted, so it's the freshest coffee in town. All our suppliers are local, as well. So we are able to provide, in my opinion, a better product."
In the future, Lepper is considering expanding his business's individuality even further by hosting "coffee parties" in which Stone Bru would teach people about the origins and deeper details of the coffee specials. Follow their updates on Facebook.
Stone Bru is open Monday-Friday 6 a.m. – 7 p.m., Saturday 8 a.m. – 6 p.m., and Sunday 8 a.m. – 3 p.m.
The warm atmosphere and delicious coffee had me wanting to return to Stone Bru again and again. As I got up to leave, the friendly barista Joseph said, "Thanks for chilling with me!" and because I finished my coffee near closing time, I got a free refill to go!