Live Music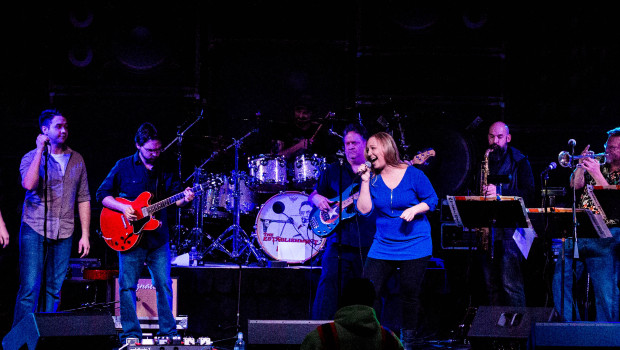 Published on June 26th, 2015 | by Dylan Myers
0
Emily Johnson Band brings the soul in a big way
See this Sioux City powerhouse tonight at Fridays on the Promenade
The Emily Johnson Band is giving Sioux City some much-needed soul. The band always leaves its audiences smiling and gives them this groovy urge to get up and dance.
"Sioux City had been very receptive to our band. It's refreshing to know that the audience in Sioux City is open to our style of music and what we do," said Mitch Martin, the band's lead guitarist.
Haven't seen them yet? You're in luck – the band will perform Friday night at Fridays on the Promenade.
So what's soul music?
"Soul music is feel-good music that comes from the heart. You live it, breath it, and feel it," said Martin.
The Emily Johnson Band got its start back in the fall of 2013 with six original members, but soon grew to be 10 players strong. And their stage presence is outsized. From Christopher Buhler's Hammond B3 to a boisterous horn section and Johnson's milky vocals, these guys are there to put on a show.
Right now the band performs a variety of hit covers but their unique bluesy sound gives each song a refreshing feel. Their energy and passion make it seem as if these songs are all their own.
Martin said their future goal is to make a full-length album with original songs. For the time being, however, they're having a good time making audiences smile and dance with their covers.
"Being able to make people dance with our music and making people feel good with our music never gets old," Martin said.
The band covers classics from rock, blues and soul all-stars, including Otis Redding, Motley Crue, Aretha Franklin, James Brown, Wilson Pickett, Tedeschi Trucks Band and many more. They're guaranteed to have a song for anyone.
My personal favorite is their cover of "Valerie" by The Zutons. Which can be found below.
Tonight The Emily Johnson Band is rocking the stage at Friday's On The Promenade at 6 PM. The cost is just $3 so if you haven't had the chance to hear these guys, you should definitely check them out!
Find Emily Johnson Band on Facebook, Soundcloud and the web.