Community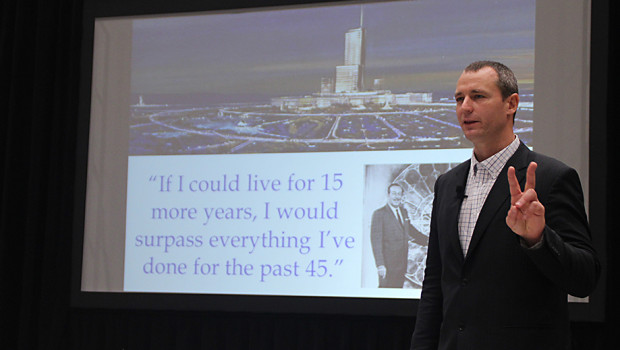 Published on October 14th, 2015 | by Thomas Ritchie
0
Innovation speaker inspired by Disney, Mother Teresa
This Thursday, Jonathan Fanning will speak at the semi-annual Business for Breakfast, which features innovative business leaders, authors and thinkers.
Fanning's talk, titled "Creative Leadership: Building a Culture of Innovation", is aimed at fostering creative thinking by leaders everyday.
He speaks to audiences around the globe, and consults with Fortune 500 companies about leadership and innovation. His talk is Thursday at 7:30 a.m. at the Convention Center and is open to the public, but you must RSVP to attend.
Here's a 5-question Q&A with Fanning.
Question: Tell me about what building a culture of innovation is important.
Answer: My youngest daughter is 5. When she is ready to join the workforce, estimates say that about 70 percent of her fellow kindergartners will work in careers that do NOT currently exist. We are all dealing with a rapidly changing world and intentionally building innovation into our lives, businesses, careers, is crucial. There is a great saying: "if you don't like change, you will like obscurity even less."
Q: Name three people who have inspired you.
A: Walt Disney, Mother Teresa, My grandfather
Q: You have made a career out of providing innovative solutions to business leaders. What's your secret sauce?
A: Do not arrive. Ray Kroc, who built McDonald's, had a mantra: "Either we're green and growing or ripe and rotting." Most organizations and leaders at some point have a tendency to arrive.
Q: What takeaways do you hope business professionals gain from hearing you speak?
A: I hope professionals will get a few a ha moments and commit to shifting one habit that will have a "game-changing" effect on their business or life.
Q: If you were a superhero, what would your super power be, and why?
A: That's a difficult question. I think one thing I would like to be able to give others is wisdom and perspective.