Live Music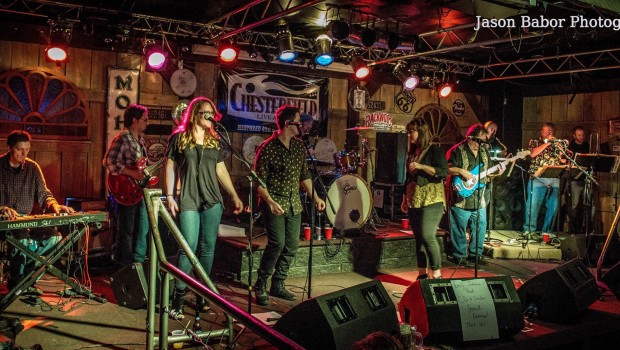 Published on May 29th, 2015 | by Sioux City Now
0
My Night Out: Chesterfield a hot spot for local music
By Pat Hubbard
Saturday night at The Chesterfield is as good as any Sioux City live music venue in the area.
The place itself is eclectic, with its oddly shaped floor plan, various signs and rock memorabilia randomly plastered on the walls, and vintage-like tables and chairs strategically placed. It's a place where you find yourself totally relaxed and at home with an age group ranging from just legal to 70-something.
Owner Mick Gamet met us at the door – instead of behind the bar pouring drinks – because of an injured right hand he suffered in a recent encounter with an intruder at his home. Mick's the kind of guy who, if there is time, will entertain each attendee with a colorful story or two about his personal life, the bands he hires, the bar business, and whatever else is going on in town.
The night we were there, Noah Towns and the Other Brothers played a great set of covers, including favorites by Van Halen, Led Zeppelin, Eric Clapton, Queen and Johnny Cash. Frontman Towns showed off his newly acquired guitar skills, but mostly sang (good voice!) and played the keyboard. The Paulsen brothers, Alex and Drew, played drums and bass, respectively. Clay Ackerman demonstrated mega talent on the lead guitar. The group's strong musical talents impressed the crowd, who were liberal with their applause and whoops. See them next at the Chesterfield on June 12.
The Emily Johnson Band completed the night with a collection of soul and R&B heavily influenced by Aretha Franklin, Grace Potter, Etta James and Al Green. Any lover of those genres would agree that this band brings it. The band formed in 2013, but the long-time musicians beautifully framed The Chesterfield stage and played like they'd been together a decade. Emily definitely brought the soul and she looked fabulous with her new hair color and hipster outfit.
As usual, Mitch Martin, the band's organizer and lead guitarist, played soulfully in the background, but his talents were always in the forefront. He's his "old man's" legacy. Mark Martin, Mitch's dad, entertained Sioux Cityans for decades as a member of the former Board of Directors band.
Other former Board of Directors members onstage included Bob Birch and Kevin Linder. Birch, a long-time bass rocker, could not have been more amazing. Linder's skills on trumpet blew us away. No pun intended. Mark Henderson's trombone solos rounded out the brass section. Chris Buhler on keys had the spotlight and gained attention in the opening number of, get this, "Amazing Grace" – of all songs.
Matt Hackett played a sassy sax and vocalists Kris Johnson and Tiffany Jurries had Emily's back, putting a punch in her already-great singing ability.  Drummer Matt VM had the beat and made the band proud with a strong performance. The Emily Johnson Band plays its next public gig, Saturday, June 13 at Leeds Days and at Friday's on the Promenade on June 26. Find them online at www.emilyjohnsonlive.com.
Our good time was enhanced by several things: Our front door encounter with Mick; the eclectic bar décor and ambience; a most excellent sound system; lots of friends; and the music of two great bands. They kept us out until the last note was played.
We'd love to hear about your night out. Send us your story (and pictures if you have them) to siouxcitynow1@gmail.com.
Photo courtesy Jason Babor Photography.