Movie Reviews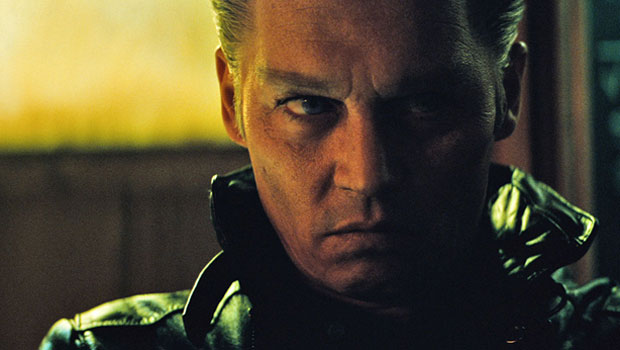 Published on September 23rd, 2015 | by Leslie Erickson
0
'Black Mass' elevated by brilliant acting, strong direction
"It's not what you do, it's when and where you do it, and who you do it to or with. If nobody sees it, it didn't happen."

– Whitey Bulger
Black Mass
Director: Scott Cooper
Actors: Johnny Depp, Joel Edgerton, Benedict Cumberbatch, Kevin Bacon
Writers: Mark Mallouk, Jez Butterworth (screenplay); Dick Lehr, Gerard O'Neill (book)
IMDB Link: http://www.imdb.com/title/tt1355683/?ref_=nv_sr_1
★★★ 1/2
This review is now available in audio format:

Great organized crime films dot cinematic history, including Coppolla's The Godfather series, Scorsese's Goodfellas and The Departed, and Tarantino's Reservoir Dogs. Scott Cooper attempts to join this distinguished list of directors with his film, Black Mass. While the film isn't quite the caliber of those great films, Johnny Depp's and Joel Edgerton's performances, along with a good cast of supporting actors, elevate the film to better-than-average status.
The film is the story of the real-life gangster of the 1970s, James "Whitey" Bulger, and his relationship with the FBI through agent John Connolly. Connolly and Bulger grew up together in South Boston, and in a world where loyalty is valued above almost anything, partly because of its rarity, this connection is sacrosanct.
Whitey, played brilliantly by Johnny Depp, is a sociopath who seems to enjoy bestowing his own brand of justice on those who violate his trust while building one of the most notorious small-time crime organizations in recent history. Depp's piercing gaze, accentuated with slicked back hair and a slimy demeanor, drives the story forward as we can't wait to see what horrible thing he does next.
Connolly, played by a fleshier and flashier Joel Edgerton than we saw in his recent film, The Gift, mixes an innocent affect with his conspiratorial ways, and seems to keep himself somehow above the psychopathic bloodbath of South Boston's crime world. His performance, as is Depp's, is mesmerizing in its conviction.
The cast of characters is long, with FBI agents and gangsters aplenty.  Almost all of the supporting cast's performances are strong, especially Kevin Bacon's FBI director Charles McGuire, Peter Sarsgaard's small-time hustler Brian Halloran, and Benedict Cumberbatch's Senator Billy Bulger, Whitey's politician brother. Unfortunately, the long list of supporting characters includes few women, and their story lines seemed tacked on to pacify some gender-equality affirmative action rather than their roles being an integral part of the story. This is a shame, because story is the main thing lacking from this film.
While quality acting, foreboding violence, and a quick succession of events will keep an audience engaged in a film, it does little to create or drive a story forward, and Black Mass is lacking in the story department. It is an effective biopic, pulling the blinds on a terrifying figure in history, but has little in the way of plot. Perhaps the fact that it is so centered on Bulger's life and criminal behavior and Connolly's participation in and facilitation of that behavior hobbled the writers on developing an engaging and compelling plot, but hobbled they seem. The story goes from point A to point B of Bulger's rise and fall, but no compelling theme or overall suspense ever grabs the audience.
The fact that the film is so watchable despite this shortcoming is testament to Cooper's direction, and for a fairly inexperienced director with only a few films under his belt, he manages the large cast, relentless action and incessant violence well. The violence, while graphic and unabating, somehow doesn't hijack the film. This is attributed to Cooper foregoing the need to linger over his violent scenes. Although they abound, they are short in duration, and, for the most part, we aren't faced with long, drawn out gore.
So while the film doesn't rise to the level of great, it is worth the ticket price to be able to squirm under Depp's piercing, psychotic gaze as the ensemble of characters does the same. We never have a character to really root for in the film, perhaps one of its major shortcomings, but we can root for the exposé of one of the most violent and nefarious characters in recent history.
Black Mass is now playing at the Sioux City Promenade Theatre. Click here for showtimes.
Watch the official trailer below:
—
Listen to Leslie read her reviews: Movies With Leslie on KWIT.