Community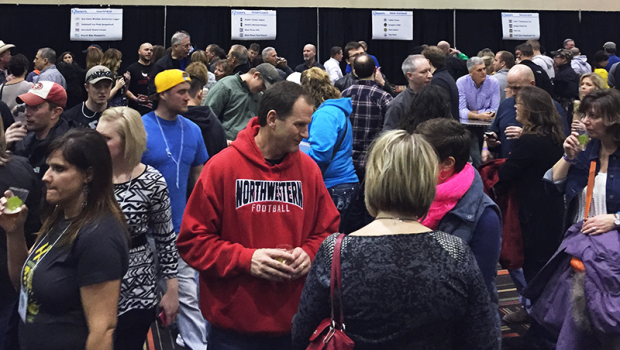 Published on February 23rd, 2015 | by Thomas Ritchie
0
Beer, beer and more beer at Steins and Vines
Ah, nothing beats the feeling of drinking in the early afternoon.
That's probably what the nearly 2,000 people participating at the first Steins and Vines Beer & Wine Festival thought during the event, held Feb. 21 at the Sioux City Convention Center.
More than 36 beer breweries and 38 winemakers participated in the noon – 4 p.m. show in which a portion of the proceeds went towards the Food Bank of Siouxland, Inc.
And what did attendees get from Sioux City's first-ever beer and wine fest? The chance to sample from more than 100 different craft beers and nearly 100 different wines, of course.
While big boy brewers like Anheuser Busch, Miller Coors and Blue Moon were well-represented, Midwestern craft beer makers such as Millstream Brewing Company (Amana, Iowa); West O (Lake Okoboji, Iowa); and Zipline Brewery (Lincoln, Neb.) also had a large presence.
Likewise, wines from Hinton, Iowa's Tucker Hill, Crescent, Iowa's Loess Hills Vineyard & Winery and Algona, Iowa's Train Wreck Winery were sampled along better established vintners from California's Napa Valley.
Grabbing tiny, reusable sampler cups from the event's organizers, our taste testers began the day with a Breakfast Stout from Grand Rapids, Mich.-based Founders Brewing Co.
Called "the coffee lover's consummate beer," this thick and chocolate-y stout packed a wallop at an 8.3 percent ABV (or alcohol by volume).
Feeling guilty by starting with such a high-voltage selection, we chose the Chippewa Falls, Wisc.-based Jacob Leinenkugel's Grapefruit Shandy (4.2 percent ABV) as a second selection, cuz grapefruits are sorta healthy … right?
What goes well with fruits? Birthday cake, of course. This is why we sampled an American stout from Shiner, Texas, called Birthday Beer (5 percent ABV), which actually mimicked the taste of a birthday cake.
About this time, a few in our group developed a ravenous sweet tooth. That's when we dove into West O's Coco Stout (6 percent ABV) and Manhattan, Kansas' Tallgrass Brewery's Buffalo Sweat (5 percent ABV), which supposedly tasted like a "beer brownie" (for the record, it did not).
We next tried a Cider Boys Grand Mimosa (5 percent ABV) from the Wisconsin-based Stevens Point Brewing Company, mainly because we were feeling both sophisticated and snockered.
But who were we kidding? We're not wine aficionados (though they was plenty of excellent wines). I was with a crew of beer fanatics.
Which is why we finished our tour with a refreshing Iowa Pale Ale from the Millstream Brewing Company.
Coming in at a 5.7 percent ABV, this light and thirst-quenching IPA was a happy reminder that the Hawkeye State makes many outstanding beers.
After a few hours of nonstop sampling, it was only 3:30 p.m.
Like I said, afternoon drinking has its appeal. Especially when we're leaving the driving to someone else.