A&E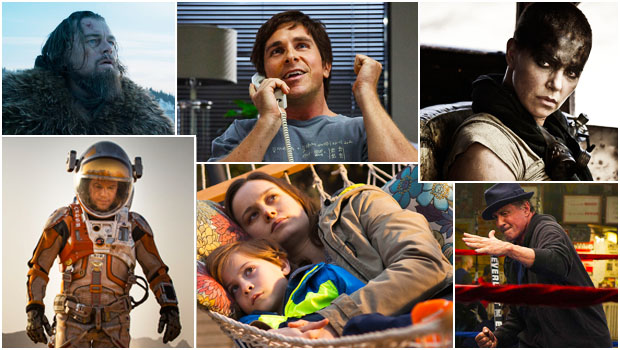 Published on February 26th, 2016 | by Leslie Erickson
0
2016 Oscars Preview: Controversial nominations, disappointing predictions
The Oscars, our annual indulgence in all things glittery and Hollywood, is upon us once again. Known to occasionally be controversial, this year certainly doesn't disappoint on that front. But as far as nominees go and films recognized, there's plenty of disappointment to go around.
When the awards were announced, it became quickly clear that the awards show, while the granddaddy of them all, is, like our granddaddies, out of touch and a bit myopic. That short-sightedness was reflected in this year's homogeneous field of nominees. The uproar was immediate and loud – the L.A. Times ran a front cover with the all-white acting nominees set out like a bank of elegant mug shots, some actors of color quickly announced they'd be boycotting the gala, and numerous articles and commentaries have flooded the media and the internet, noting the monochromatic nature of an industry that has, for years, been predominantly white and male.
Not only were some amazing performances by actors of color snubbed, like Michael B. Jordan's title character in Creed, Will Smith in Concussion, and Benicio Del Torro in Sicario, but also the film Creed and its director, the young Ryan Coogler, were ignored. Other places The Academy missed the boat were in screenwriting in which Aaron Sorkin's brilliant script for Steve Jobs was ignored, and Helen Mirren's performance in Trumbo was overlooked even though it is arguably the best supporting performance of the year.
Besides ignoring some of the best films, direction, writing, and performances of the year, the Oscars fell for the seduction of the big, beautiful film. The Revenent, while admittedly a big, spectacle of a film, leads in nominations but is flawed in its storytelling and over-hyped in its performances. Films like Bridge of Spies and Mad Max: Fury Road were nominated for a number of categories they didn't deserve – Bridge of Spies is a mediocre, sentimental film playing on nostalgia and the romanticism of the "greatest generation," Fury Road, while a great post-apocalyptic spectacle, is not best-picture material, and Brooklyn, a sweet period film lacks the power we should see in best picture nominees.
But, the picks are made and we must live with the year's selections, flawed or not. With that in mind, which films and performances will take home the Oscars Sunday? Will the Academy reward the strongest films nominated in each category or will it reward hard work or give awards where they are "deserved"? Here are a few of my thoughts in the major categories.
BEST PICTURE: The favorite by far is The Revenant. And while, as I said, it's a big, impressive production, it lacks heart and storytelling. The better overall films nominated, though, are The Big Short, Spotlight, Room, and The Martian. Bridge of Spies, Fury Road, and Brooklyn are the weakest of the nominees, and films not nominated that should have been include Creed, Trumbo, and Steve Jobs. My favorite film of the year is The Big Short – its sharp-witted, good writing takes a complex situation and makes it not only understandable but also both funny and frightening. But, I'm afraid The Revenant will, in fact, take The Academy's top honors.
BEST ACTOR: As I already noted, there are some glaring omissions in the nominations this year, but the performances are, for the most part, really good. Again The Revenant is favored and I imagine Leonardo DiCaprio will finally get his Oscar, but his grunting, painful performance is really just one-dimensional; hardship on the actor should not be the determining factor when awarding the year's best performance. Matt Damon does a great job endearing us to his stranded botanist in The Martian, but the frivolity of the role seems to undermine its ability to be taken seriously. Bryan Cranston in Trumbo, Michael Fassbender in Steve Jobs, and Eddie Redmayne in The Danish Girl all turn in stellar performances, but my favorite is Fassbender's Steve Jobs. His performance conveys the complexities of a familiar larger-than-life personality and brings that character down to earth as the flawed, complex man he must have been.
BEST ACTRESS:  All the performances for best actress this year were very good. A few familiar faces –  Jennifer Lawrence in Joy and Cate Blanchett in Carol – turned in their usual strong, convincing performances. British actress Charlotte Rampling is nominated for her performance in the virtually unknown film 45 Years, and Irish actress Saoirse Ronan's performance carries the period piece Brooklyn, but the strongest performance of the year is Brie Larson's in Room. A fairly inexperienced actress, Larson steps into the lead role and holds our attention, eliciting strong emotions from her audience.
BEST SUPPORTING ACTOR: While Christian Bale's performance in The Big Short was quite memorable and Mark Ruffalo stood out in the large, talented cast of Spotlight, Sylvester Stallone is a shoe-in for his resurrected Rocky roll in Creed. I believe it may be his strongest performance ever, and the subtleties of his character were moving and convincing (evidence that the overlooked direction of Ryan Coogler was impressive and Oscar-worthy). Tom Hardy, who is always strong, was good in The Revenant, as was Mark Rylance in Bridge of Spies, but neither performance was as memorable as the other three.
BEST SUPPORTING ACTRESS: The winner of the supporting actress nominees is a tough call to make. Kate Winslet has already won the trophy in other award venues, and although I found her accent distracting in Steve Jobs, she turned in a strong performance. Rooney Mara in Carol and Alicia Vikander in The Danish Girl carried much more of their respective films than is typical for a supporting role, and their roles were large enough that either could have been nominated as lead actress. Rachel McAdams, the only woman in the ensemble cast of Spotlight, seems a nod to political correctness as her performance, while good, wasn't overly memorable. This leaves Jennifer Jason Leigh in The Hateful Eight. Tarrentino's film was mostly overlooked (Samuel L. Jackson could have been rightfully nominated for supporting actor for that ensemble and the script was strong enough to be a contender), but fortunately Leigh's performance was recognized, and that's the performance I feel is most deserving.
DIRECTING: The most favored director this year is Alejandro Iñárritu for The Revenant, which would give him the rare repeat for the award (he rightly won for Birdman last year). And although the film is well done, and it will probably win, I don't think it deserves the award. I like The Big Short for best direction, as it's well-constructed, compelling, and innovative in addition to being highly entertaining. Room and Spotlight are both very good films, but neither really steps up and rises above the field. Mad Max: Fury Road is exciting and visually compelling, but it's all dressing and no substance. At the risk of sounding repetitive, I again want to note that the omission of Ryan Coogler's excellent work in Creed is truly a serious error on The Academy's part.
WRITING: I was quite disappointed in the writing nominees this year; this is one category that I'm usually more right than wrong, and this year there are some glaring snubs. For best ADAPTED SCREENPLAY, Aaron Sorkin's Steve Jobs won the Golden Globe and deserves the award here. Instead, The Academy ignored it completely. Of the films that were nominated, all did have strong screenplays, but the strongest adaptation is The Big Short as it's tapestry and storytelling is memorable and entertaining. For ORIGINAL SCREENPLAY, I'm going with Ex Machina, a film overlooked by much of the viewing public, for its ability to convince the audience of an implausible situation, but Spotlight, also a very good script, will most likely take the Oscar home.
For the awards in technique, The Revenant stands out in CINEMATOGRAPHY for its beauty and how it captures the natural world, and Fury Road stands out for the sheer visual impact and arrangement. I would also pick Fury Road for its EDITING, and SOUND EDITING stands out in Sicario while SOUND MIXING stands out in Fury Road.  Fury Road stands out for its VISUAL EFFECTS, COSTUME DESIGN, and MAKEUP AND HAIR STYLING and The Revenant should be recognized for its PRODUCTION DESIGN.
The nominated films this year, as always, are strong, but the big story this year are the snubs and omissions, especially to actors and filmmakers of color. When the announcement of the nominees sparks the hashtag #OscarsSoWhite, The Academy needs to sit up and take note. As our most prevalent form of literature these days, and one of our greatest sources of entertainment, it's important that good films and good filmmaking are recognized and rewarded, regardless of color or the perception of "what sells."
Regardless of the industry's flaws, film remains an important cultural commentary and one of the best vehicles to facilitate the culture's movement toward inclusion and understanding of the connectedness and nature of our human condition. If you haven't seen a lot of these films, strive next year to go to the movie, at least some of the time, to watch those critically acclaimed films that can capture our hearts and humanity or push our intellects and senses.
Check out Leslie's interview with KWIT here:  http://kwit.org/post/preview-oscars
---
Photo credit: http://oscar.go.com